Peanuts For Your Peanut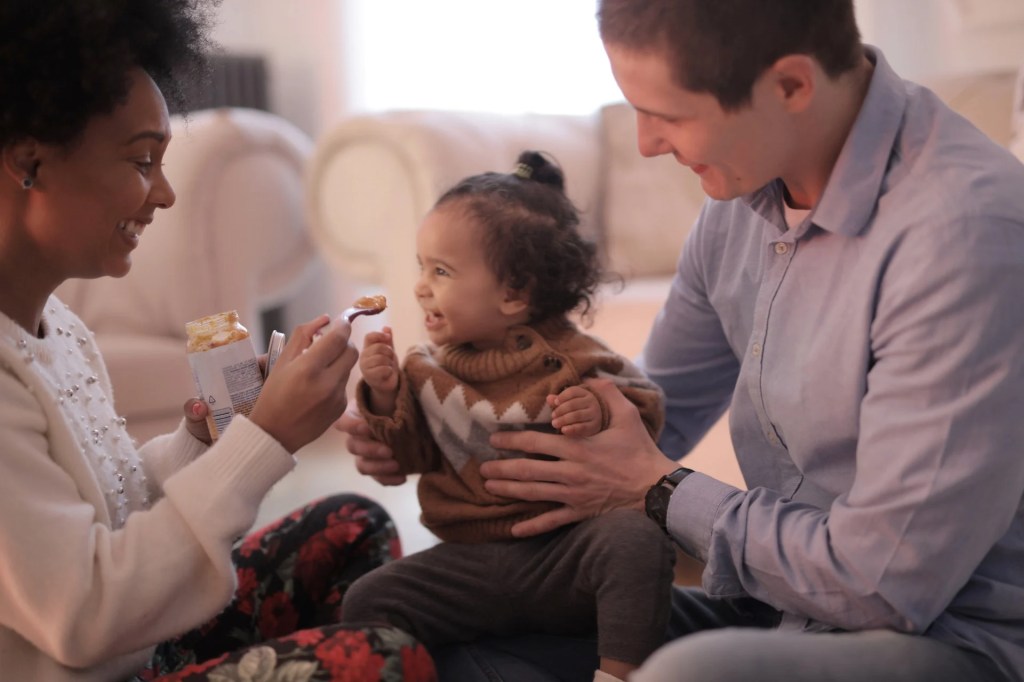 ---
For some families, peanuts are on the no-fly list. If someone in your house has a peanut allergy, it means they can't even come in contact with the scrumptious legume. When you have a baby, introducing them to peanuts for the first time can be scary. Not to worry, below are some of the most commonly asked…
For some families, peanuts are on the no-fly list. If someone in your house has a peanut allergy, it means they can't even come in contact with the scrumptious legume. When you have a baby, introducing them to peanuts for the first time can be scary. Not to worry, below are some of the most commonly asked questions about introducing peanuts.
Here's What You Need To Know:
Peanut allergies are very rare.
It's recommended that parents introduce peanuts as early as 6 months.
If there is no family history of peanut allergies, your baby likely won't have one.
Tree nuts are a different allergy than peanuts, but can be just as severe.
Your little one's daycare or preschool likely has a no-peanut rule.
When do I give my babe peanuts?
There is a lot of fear surrounding the introduction of peanuts. They are one of the most common, and severe, food allergies. Historically, parents have been told to wait until around 1 year before introducing peanuts to a baby. However, between 1997 and 2008, the number of children with peanut allergies almost tripled. This showed that tolerances weren't being built up properly.
Nowadays, it's recommended that parents introduce peanuts as early as 6 months to reduce the amount of children with peanut allergies. Even so, its introduction is extremely intimidating.
Below are a few things to think about before introducing peanuts to your little one:
Key First Trimester Foods:
Leafy Greens: Rich in folate, essential for fetal development.
Eggs: Protein and choline sources for fetal brain development.
Berries: Antioxidant-rich with vitamin C to support immune function.
Greek Yogurt: Protein, calcium, and probiotics for gut health.
Sweet Potatoes: Provide vitamin A for fetal development and immunity.
Is There a Family History of Peanut Allergies?
If not, your child likely won't have an allergic reaction. If there is a history of peanut allergies in your family, have a discussion with your child's pediatrician to determine the best way to go about introducing peanuts.
Try Peanuts at the Doctor's Office
Ask your pediatrician if you can bring in a closed container with peanut butter, or peanut butter cereal to your little one's check up. Most doctors don't mind, and in the event of an adverse reaction, you're already right where you need to be.
Peanut Allergies are Rare
It is estimated that 0.6-1.3% of people in the US have a peanut allergy. Therefore, there is a very small chance that your babe will be one of those people. Take a deep breath — it's all going to be okay.
Try Tree Nuts Too
Walnuts, almonds, hazelnuts, cashews, pistachios, and Brazil nuts all qualify as tree nuts. Tree nuts are a different food allergy than peanuts, but can be just as severe. You can introduce them as early as 4-6 months.
How do I introduce peanuts to my babe?
There are a couple of different ways to safely introduce your mini to peanut butter. You can mix peanut butter or peanut butter powder in with your babe's cereal, oatmeal, applesauce or other fruit puree. Peanut powder is particularly great, because it's easier to start with very small quantities and control how much you're adding in. You can also use peanut butter cereal puffs, or a peanut introduction kit like Hello, Peanut.
My little one loves peanut butter – but they attend a nut-free school. What are some alternatives?
If your little one is old enough to attend daycare or preschool, odds are their school has a strict no-peanut rule. There are plenty of alternatives out there on the market. Wowbutter, Sunbutter, and Sneaky Chef No-Nut Butter are all good options.
Summary
Early exposure to peanuts prevents severe allergies and builds up your baby's tolerance. There are a couple different ways to safely introduce your baby to peanuts, but when and how you do, is up to you. Do whatever makes you feel most comfortable.
If you have any concerns about your baby's response to peanuts, seek immediate medical attention/call 911.