Cauliflower Tots Recipe
---
With summer fast approaching, it is the perfect time to drop this refreshing recipe! These drops melt quickly in a baby's mouth. Made with unsweetened yogurt, and a fruit or vegetable puree, it's a great way to use up any extra Yumi you have lying around. The best part? It takes less than 5 minutes…
With summer fast approaching, it is the perfect time to drop this refreshing recipe! These drops melt quickly in a baby's mouth. Made with unsweetened yogurt, and a fruit or vegetable puree, it's a great way to use up any extra Yumi you have lying around.
The best part? It takes less than 5 minutes to make. We call that a parenting win.
Preparation Time
Less than 15 mins
Serves
Makes about 15 tots
Cooking time
0 to 1 hours
Ingredients
10 ounces (1 small head) of cauliflower, steamed*
1/3 cup cheddar cheese
1/4 cup whole wheat bread crumbs
1 egg
2 tablespoons onion, diced
1 tablespoon dried basil
1/4 teaspoon paprika
1/4 teaspoon salt
1/4 teaspoon pepper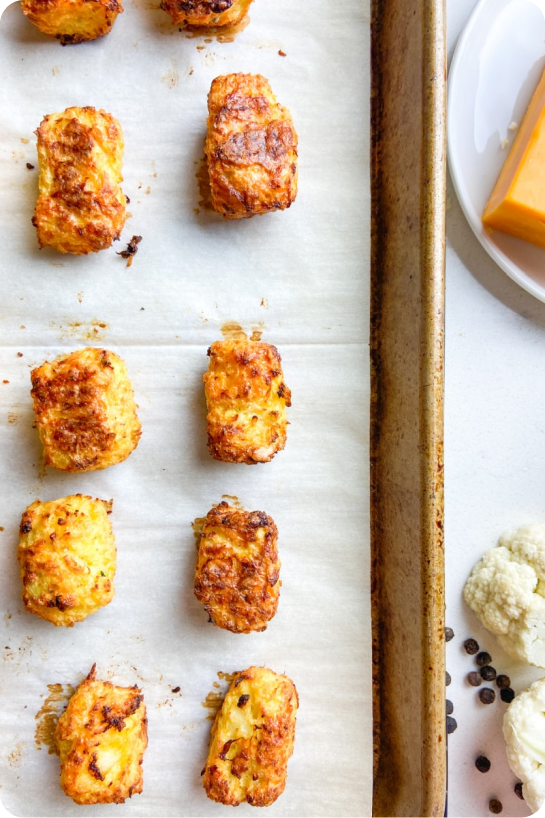 Method
Preheat the oven to 400F degrees.
In a food processor, combine all of the ingredients listed above.
Blend until the mixture is mostly chopped, with some texture remaining.
Using an ice cream scoop, scoop the mixture onto a parchment-lined baking sheet.
Bake for approximately 12-15 minutes, until the top of the tots are golden brown.
Allow to cool slightly, then serve.