Cinnamon Blueberry Oatmeal Recipe
---
Oatmeal is an easily forgotten classic. Every time we go to the grocery store, we are shocked at the amount of sugar they fit into tiny instant-oatmeal packages. The reality (that often slips our mind) is that oatmeal is so incredibly easy to make and doesn't have to be a sugar bomb to be tasty.…
Oatmeal is an easily forgotten classic. Every time we go to the grocery store, we are shocked at the amount of sugar they fit into tiny instant-oatmeal packages. The reality (that often slips our mind) is that oatmeal is so incredibly easy to make and doesn't have to be a sugar bomb to be tasty.
All it takes is a few minutes on the stovetop. It's great because you can get super creative with your mix-ins. Swap blueberries for strawberries, mango, apple, banana, or any other fruit you have on hand. You can add in nutmeg, rose water, or lucuma for added sweetness. For a more savory twist, add in some turmeric or a dash of chipotle pepper. Top it off with a nut butter of your choice, dried fruit, seeds, or nuts.
Ingredients
2 cups milk, non-dairy milk, or water (475ml)
1 cup oats (80g)
2-3 tablespoons maple syrup
1 teaspoon vanilla
1 teaspoon cinnamon
1/2 cup frozen blueberries (70g)
1-2 tablespoons unsweetened vanilla almond milk
2 tablespoons crunchy peanut butter
A sprinkle of cinnamon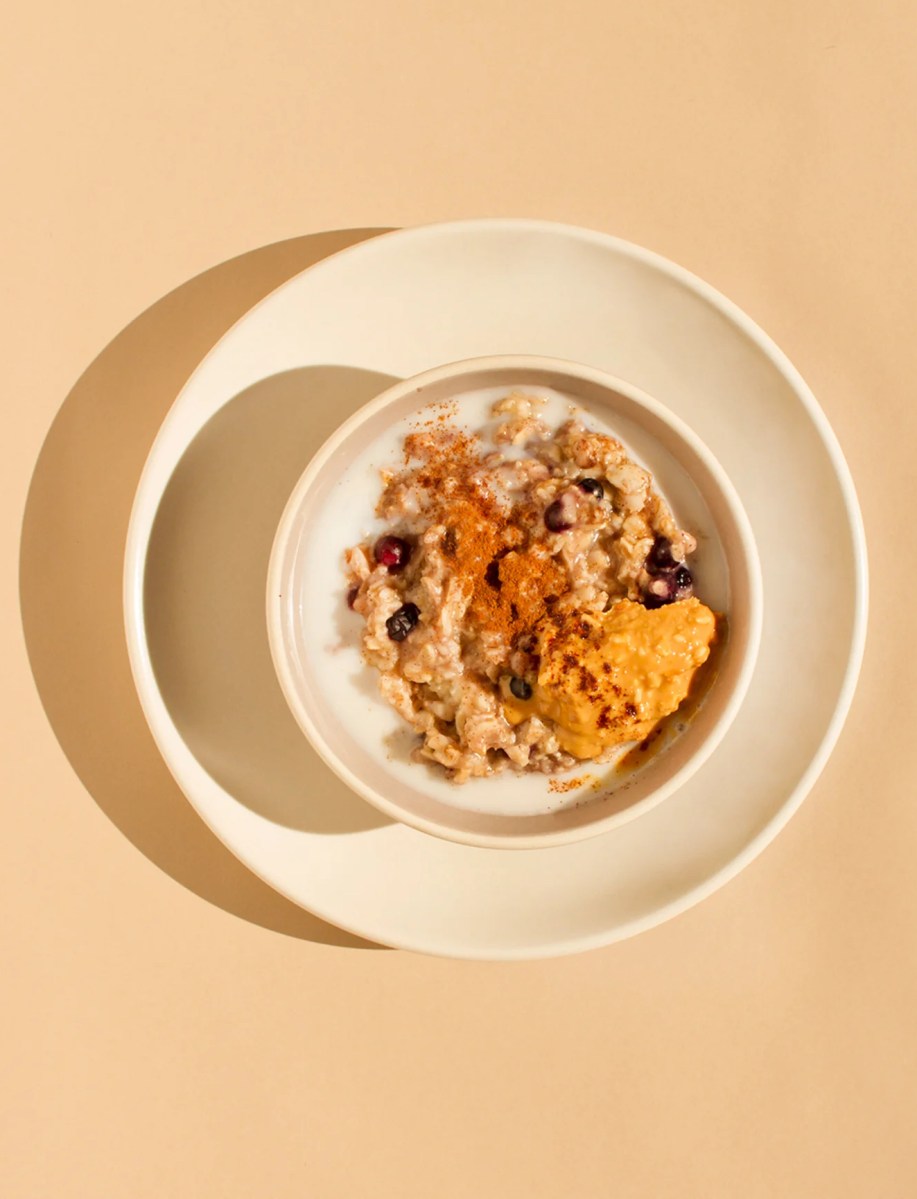 Method
In a small pot, combine water and oats. Simmer the mixture over medium heat until all the liquid is absorbed and the oats are smooth and creamy (about 8-10 minutes). Stir occasionally.
Once the oatmeal mixture is fully cooked, add in the vanilla, cinnamon, and maple syrup. Mix until well combined.
Remove the pot from the heat.
Gently fold in the frozen blueberries. These will add flavor and help cool down the oatmeal so that you can enjoy it right away.
Divide the oatmeal amongst bowls.
Pour 1-2 tablespoons of almond milk over the oatmeal, add a scoop of peanut butter on the side, and top it off with a sprinkle with cinnamon.
Serve immediately and enjoy!