Dreamy Dragon Fruit Smoothie Recipe
---
Smoothies can be a controversial snack for little ones. This is because they are usually packed with fruit sugars. Although the sugars that come from fruit are natural, as with anything, there is such a thing as too much. This is especially true when it's displacing other nutrients. This is why we created this Dreamy…
Smoothies can be a controversial snack for little ones. This is because they are usually packed with fruit sugars. Although the sugars that come from fruit are natural, as with anything, there is such a thing as too much. This is especially true when it's displacing other nutrients. This is why we created this Dreamy Dragon Fruit Smoothie— and it's truly delectable.
Cauliflower is our secret to keeping smoothie sugar levels low. It cuts the sweetness of the fruit, while adding a thick and creamy texture. Cauliflower is also high in fiber, vitamin C, vitamin K, vitamin B6, folate, pantothenic acid, potassium, and manganese. Adding it to your smoothie is a no-brainer. You can chop it up ahead of time, steam it, freeze it, and then toss it into any smoothie.
Dragon fruit is naturally low in sugar, and adds a gorgeous color to this drink. It is also rich in antioxidants, B vitamins, and vitamin C. The bananas add fiber and potassium. The pineapple provides vitamin C and manganese. The raspberries supply antioxidants, vitamin C, manganese, copper and fiber. We've also added baobab powder, which comes from Africa's 'Tree of Life'. It is a rich source of vitamin C, promotes regular energy release, immune function, and contributes to healthy, glowing skin. Unsweetened almond milk is the perfect way to blend it all together. Your toddler can eat this smoothie out of a bowl or drink it from a cup.
Ingredients
1 ripe banana (140g)
1 12oz packet frozen pitaya (340g)
1/2 cup frozen steamed cauliflower (105g)
1/2 cup almond milk (145g)
1/2 cup raspberries (170g)
1/2 cup pineapple (230g)
1 teaspoon baobab powder (4g)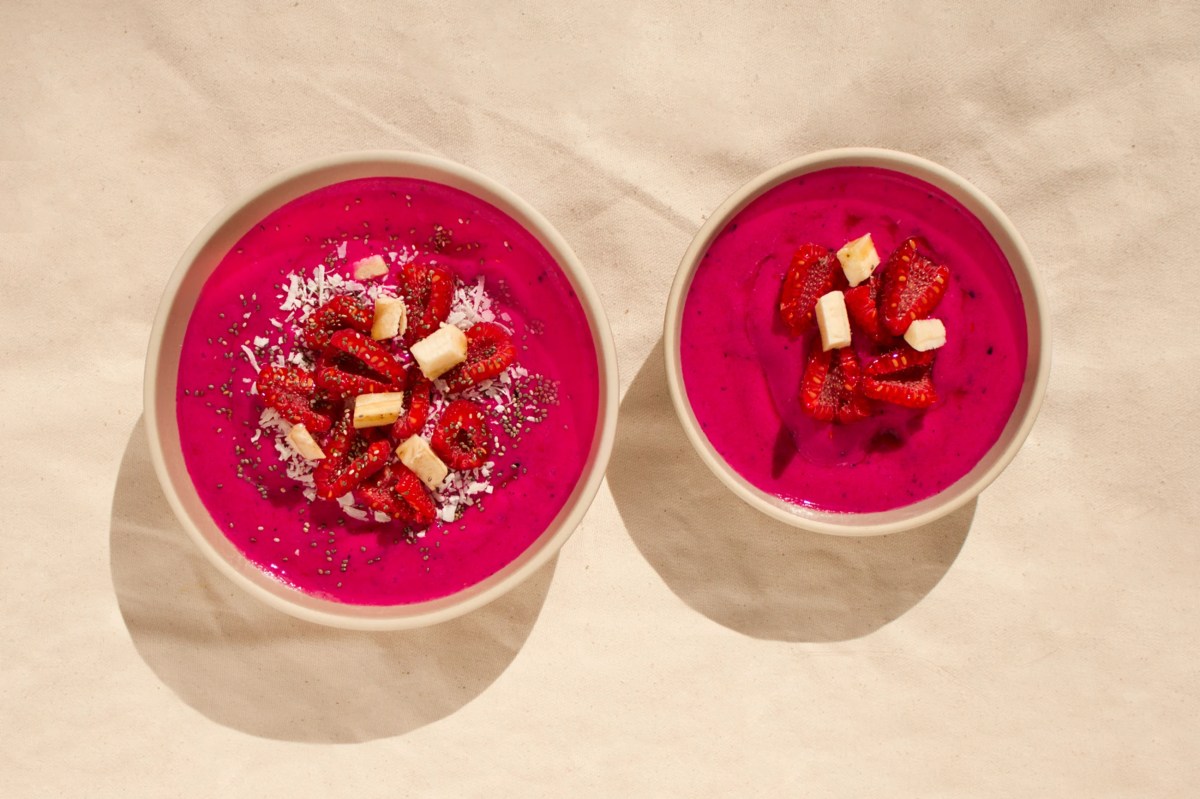 Method
In a large blender, combine all ingredients and blend until well-combined.
Add toppings, if desired.
Enjoy!
Notes:
If your baby is sensitive to nut milks, feel free to use any other liquid of choice, such as coconut, cashew, hemp, or oat milk.
If you would like to "adult it up", additional options include chopped fruit, almond butter, shredded coconut, chia seeds, and flax seeds.