Great Greens Smoothie Recipe
---
Most green smoothies are delicious, but when you break it down, you find the only vegetables used are spinach or kale. While both are great for you, they're typically overpowered by the fruits in the smoothie. This green smoothie recipe keeps Yumi's mission in mind: nutrient-dense and low in sugar. To lower the sugar in…
Most green smoothies are delicious, but when you break it down, you find the only vegetables used are spinach or kale. While both are great for you, they're typically overpowered by the fruits in the smoothie. This green smoothie recipe keeps Yumi's mission in mind: nutrient-dense and low in sugar.
To lower the sugar in this smoothie and increase the nutrient density, we added cauliflower that's been steamed and frozen. It doesn't alter the smoothie's flavor and it's a great way to decrease sugar levels. Cauliflower is high in fiber, vitamin C, vitamin K, vitamin B6, folate, pantothenic acid, potassium, and manganese — it's a vitamin feast. Lastly— spirulina. Spirulina is water-grown, 100% vegetable plankton. It contains more chlorophyll than any other food source in the world. This provides increased energy, stamina, attention, focus, and mental clarity. It also helps promote a healthy immune system, nervous system, brain, digestive tract, and a balanced metabolism.
Ingredients
1 cup packed spinach or kale (36g)
1 banana (140g)
1/2 cup frozen steamed cauliflower (75g)
1 kiwi (can substitute with 1/4 cup of fresh or frozen mango) (70g)
1/2 cup unsweetened almond milk (120ml)
1/4 teaspoon spirulina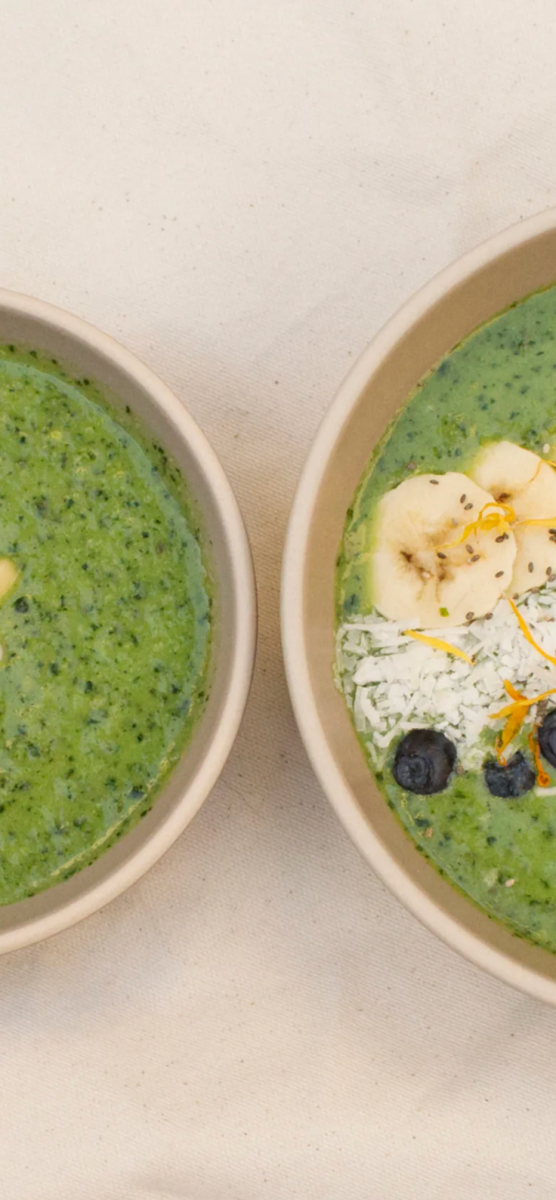 Method
In a large blender, combine all of the ingredients listed above and blend until well-combined. Add toppings if desired.
Enjoy!
Note: Spirulina is super concentrated, so make sure to only add ¼ teaspoon. A little goes a long way!