Healthy Chocolate Pancakes Recipe
---
Pancakes have a pretty great reputation in the eyes of kids–you can make them into fun shapes and add endless toppings. Pancakes always hit the spot, and even the pickiest half-pint will gobble up these secretly super healthy ones. To make life easier, you can prepare the batter in a blender–that means no whisking or…
Pancakes have a pretty great reputation in the eyes of kids–you can make them into fun shapes and add endless toppings. Pancakes always hit the spot, and even the pickiest half-pint will gobble up these secretly super healthy ones. To make life easier, you can prepare the batter in a blender–that means no whisking or whipping.
Zucchini serves as the main liquid in this batter, while adding potassium, vitamin C, and vitamin B-6. Carrots provide moisture and loads of beta-carotene. Bananas serve as a natural sweetener, while adding potassium, fiber, vitamin C, and vitamin B-6. Flax and chia seeds bind the cookies together, while also providing fiber and omega-3s.
You can serve these to your babe on their own, or you can top them with a drizzle of real maple syrup, or a dollop of coconut cream. You can also toss an assortment of fruits on top. If you want to have some extra fun, adding mini chocolate chips to the batter is 100% acceptable.
Ingredients
1 medium zucchini, peeled and diced
1/2 cup loosely packed shredded carrots
2 ripe bananas
1/2 cup whole wheat flour
2 tbsp unsweetened cocoa powder
2 tbsp maple syrup (optional)
2 tsp baking powder
1 tsp ground flax seeds
1 tsp vanilla extract
1/2 tsp cinnamon
1 tbsp chia seeds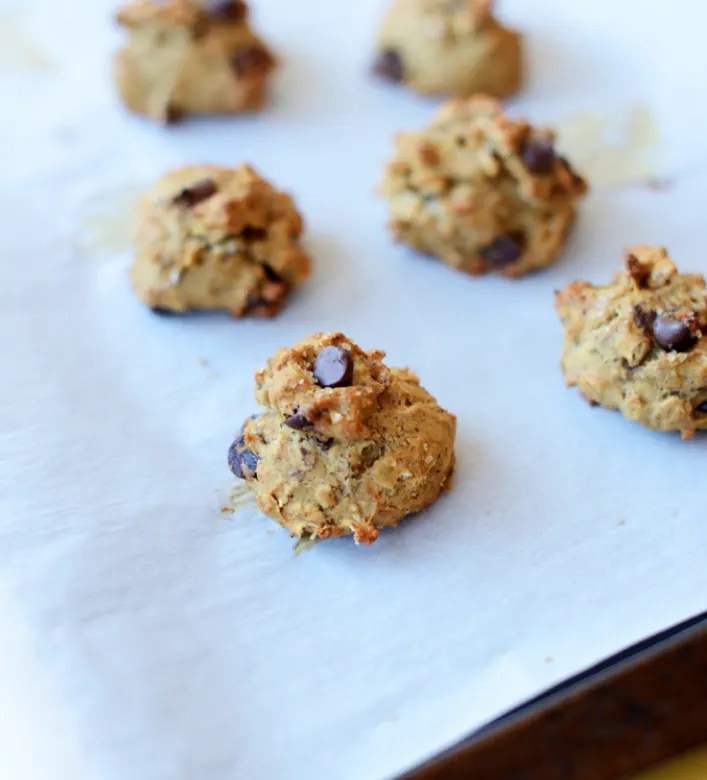 Method
In a blender, combine zucchini, shredded carrots, banana, whole wheat flour, cocoa powder, baking powder, flax seeds, vanilla extract, and cinnamon.
Blend until all the ingredients are well-combined. Scrape down the sides with a spatula in between blends to ensure that everything gets incorporated.
Transfer the batter into a large mixing bowl, and stir in the chia seeds.
In a large frying pan over medium heat, add butter or coconut oil.
Using an ice cream scoop, place the batter into the pan.
Cook 2-3 minutes on each side over medium heat.
Top the pancakes off with berries, a drizzle of honey, organic maple syrup, or a dollop of coconut cream.