Healthy Holiday Cookie Recipes
---
We're not here to be cookie monsters, we're just trying to keep your babe from becoming one.
Our childhoods are filled with memories of making cookies with mom and grandma every holiday season. We loved eating too much cookie dough, cutting out shapes, frosting cookies, and dousing them in sprinkles. To this day, no aroma conjures nostalgia quite like the smell of a warm home after a holiday baking marathon.
Now that we are older, neither our metabolism nor blood sugar can handle gobs of cookie dough and sprinkles. As we make our own holiday cookie memories with our children, it feels good to teach them that delicious can also mean healthy. These recipes are great for making with your kids. They'll love helping you mix, roll, and shape.
This first recipe creates chewy spiced molasses cookies that are perfectly seasoned and not-too-sweet. Dust them with sugar or get creative with colored frosting. They're the perfect bite-size indulgence for your next holiday party.
Ingredients
1 1/4 cup whole wheat flour (175g)
1 teaspoon baking powder
1 teaspoon ginger
1/2 teaspoon cinnamon
1/4 teaspoon nutmeg
1/4 teaspoon ground cloves
1/4 teaspoon Kosher salt
2 tablespoons butter, room temperature
1 tablespoon natural sweetener, such as Stevia
1 egg, room temperature (60g)
1 teaspoon vanilla extract (3g)
1/4 cup molasses (80g)
Colored sugars, for dusting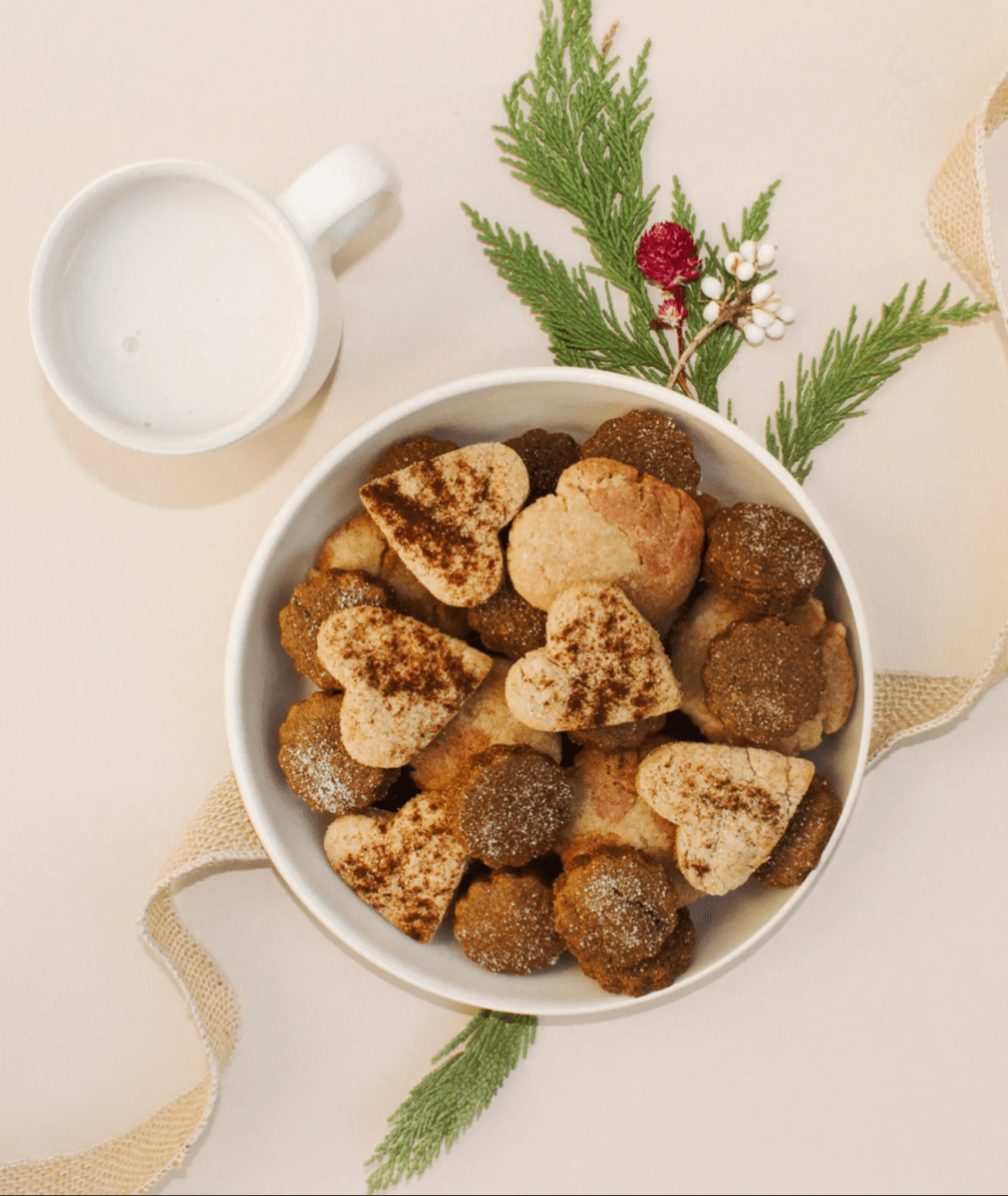 Method
Sift together your whole wheat flour, baking powder, ginger, cinnamon, nutmeg, ground cloves, and kosher salt. Set aside.
In a mixing bowl with a paddle attachment, cream the butter and sugar together for 2-3 minutes at high speed.
Beat the eggs and vanilla extract into your mixture at medium speed until just combined. Scrape down the sides of the bowl.
Alternate adding half of your dry ingredients with half of your molasses until it is all completely incorporated.
Form the dough into a ball and wrap in plastic wrap. Refrigerate for 1 hour.
Preheat your oven to 375F.
Remove your cookie dough from the fridge and place it between two sheets of parchment paper.
Roll out the dough to a ¼th inch thickness, between the sheets of parchment paper to prevent sticking.
Using a cookie cutter, cut the dough into your desired shapes.
Place on a non-greased baking sheet and top with a light sprinkle of colored sugar.
Bake for 7-8 minutes, until the bottom of the cookie has developed a crust.
Allow to cool and enjoy!
Notes: Makes 24-30 1" Cookies. Store in an airtight container for up to 5 days.
---
Vegan Snickerdoodles
These puffy and delicious snickerdoodles are so simple, so good, and so easy to make. They are the perfect holiday cookie, but feel free to make them year-round.
Ingredients
Topping:
1/3 cup (70g) granulated sugar
1 teaspoon ground cinnamon
Cookie:
1/4 cup natural sweetener, such as Stevia
1/4 cup vegan butter, room temperature
3/4 cup whole wheat flour
1/4 teaspoon baking powder
1/4 teaspoon baking soda
1/4 teaspoon salt
1/4 teaspoon cream of tartar
1 tablespoon unsweetened almond milk
1 teaspoon vanilla extract
Method
Preheat the oven to 375F.
Prepare the topping by combining the sugar and cinnamon in a shallow bowl.
In an electric mixer with the paddle attachment, beat the butter and sweetener together on high speed until smooth and creamy, about 2 minutes.
Add the dry ingredients and mix until just combined.
Roll the dough into 1-inch balls, then roll the balls in the cinnamon-sugar mixture.
Place them 2-inches apart onto a parchment-lined baking sheet.
Bake for 10 minutes until golden brown.
Remove from the oven and let cool.
Notes: Makes 12-15 2" Cookies. Store in an airtight container for up to 5 days.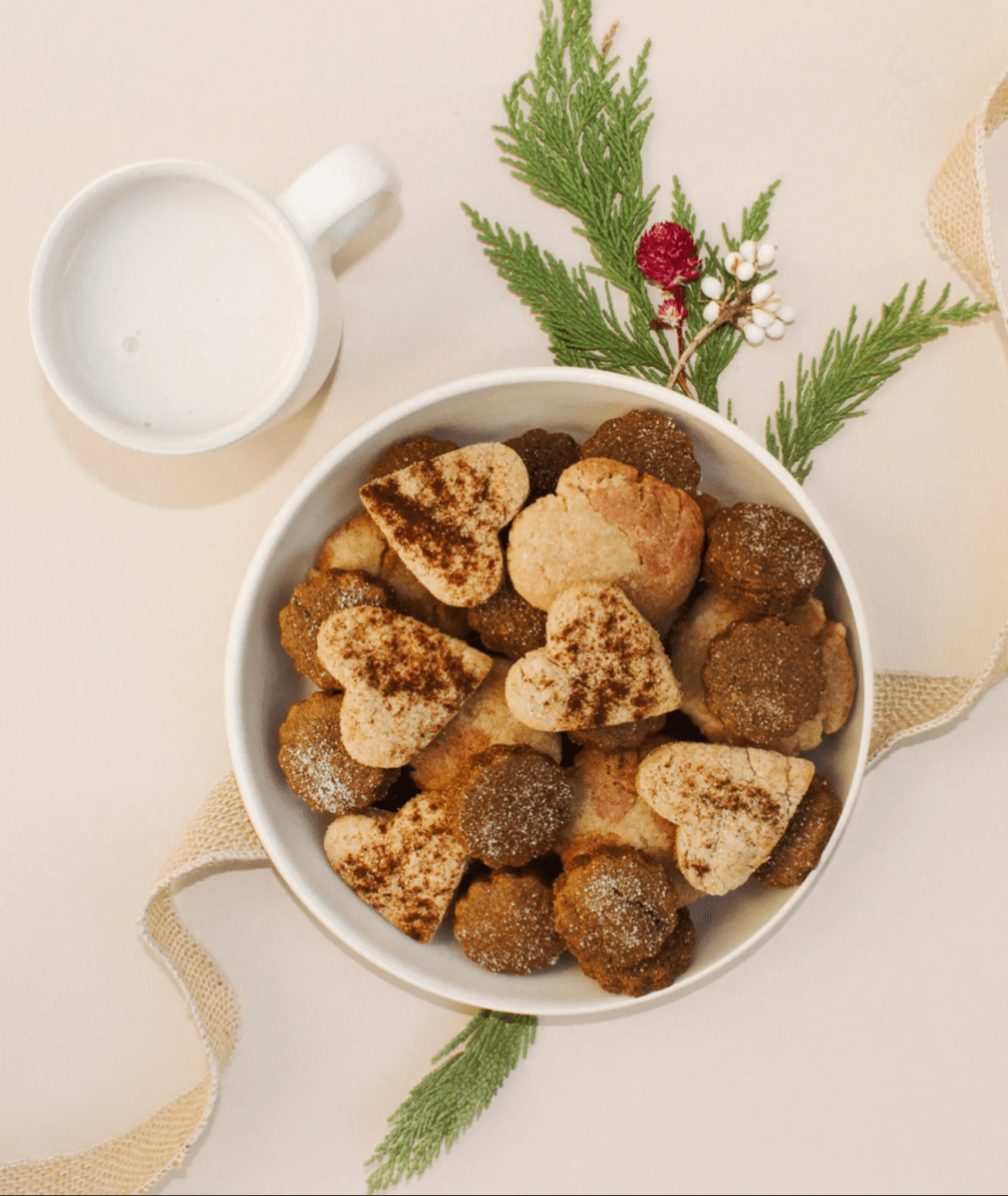 ---
"Peppermint" Swirl Cookies
Remember those classic di-colored candy cane shaped cookies that didn't actually taste like peppermint but were still sooo delish? We've made a whole wheat version of that classic – and rather than shaping them into candy canes, we're shaping them into peppermints because who has time to make candy cane cookies when you have kids running around the house?!
Ingredients
1/2 cup butter
1/2 cup coconut oil
1 egg
1 teaspoon almond extract
1/2 teaspoon vanilla extract
2 1/4 cups whole wheat flour
1 cup powdered sugar
1/2 teaspoon salt
Beet Slurry (for dye):
3/4 teaspoon beet powder
1 teaspoon water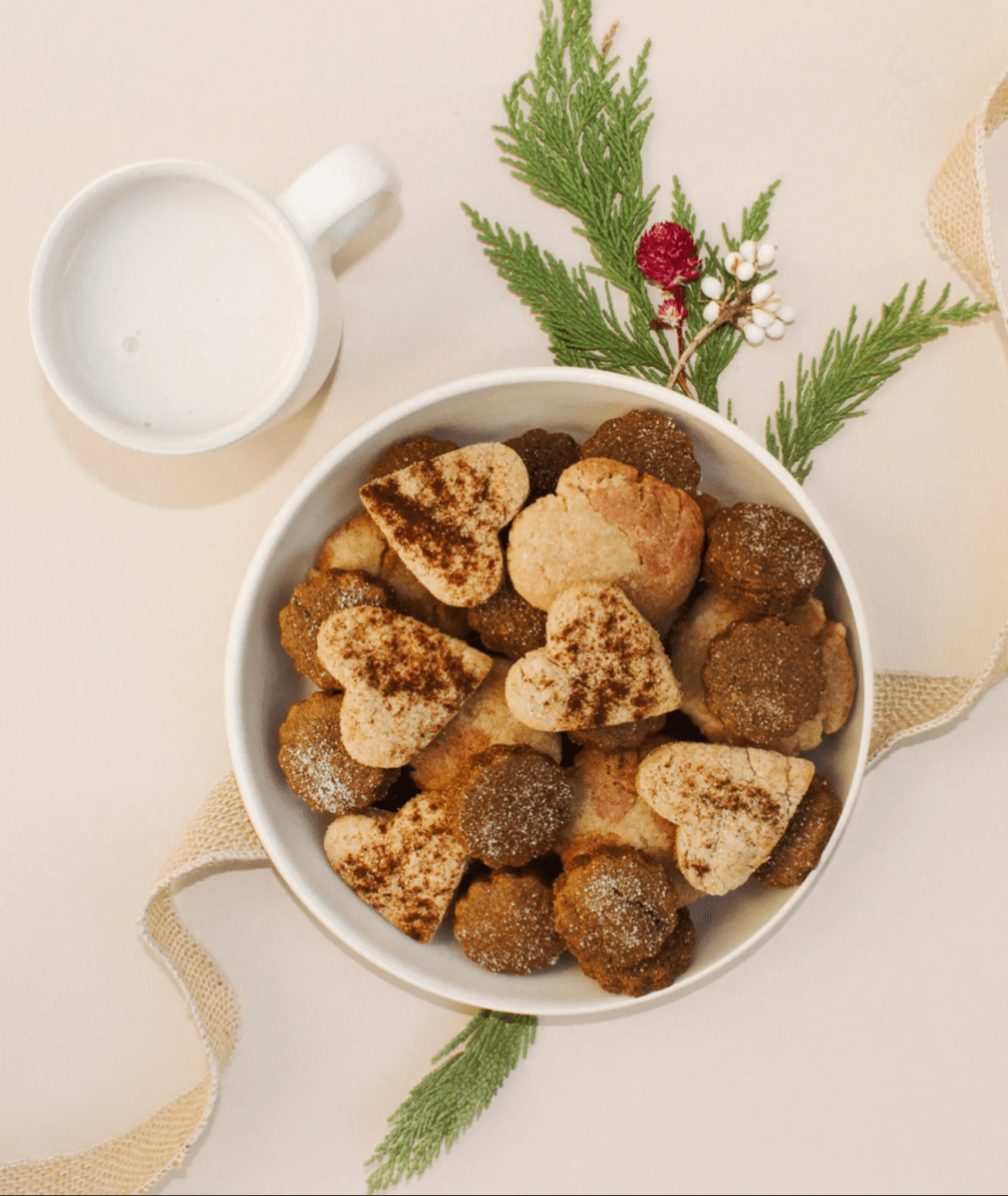 Method
Preheat your oven to 375F.
Prepare your red dye by combining the beet powder and water, set aside.
In a large mixing bowl, combine the butter, oil, egg, and extracts. Mix well.
Add the dry ingredients and mix until just combined.
Divide the dough evenly into two separate bowls.
Set one of the bowls aside, and in the other, add the beet powder slurry (beet powder + water).
Mix the beet powder slurry into the dough until it is a bright red.
Form balls by rolling together a pinch of white dough and a pinch of red dough.
Flatten each ball out and place on a non-greased cookie sheet.
Bake for 12-14 minutes until the bottom of the cookie is golden brown.
Allow to cool – and enjoy!
Notes: Makes 20-24 3" Cookies. Store in an airtight container for up to 5 days.