Hidden Veggie Pasta Sauce Recipe
---
Two things we've learned while spending time with kids. 1) Not all kids eat their vegetables. 2) Almost all kids love pasta. With those two facts in mind, we wanted to create a pasta sauce that snuck in as many veggies as possible — for those moments when little ones decide to be picky and…
In this recipe, we use carrots, zucchini, mushrooms, red bell peppers, and tomatoes. Carrots serve as a great source of fiber, vitamin A, vitamin K, and manganese. They also contain vitamin C, vitamin B6, folate, pantothenic acid, iron, and potassium (yum). Zucchini is a green-skinned summer squash packed with potassium, fiber, vitamin A, vitamin C, and vitamin B6. Mushrooms are a great source of omega-6 fatty acids, which are great for brain function, growth, and development. We chose to use red bell peppers due to their sweetness, but you can use any color you have on hand. They are all delicious and an amazing source of vitamin C, amongst other nutrients. Finally, tomatoes, the key ingredient to any red sauce. They're high in vitamin C, potassium, folate, and vitamin K.
This sauce checks off so many boxes. It is a multivitamin in pasta sauce form. If you want to add some protein, just cook up a package of organic ground beef or turkey and toss it in!
Ingredients
1 tablespoon olive oil
1/2 medium onion, finely diced (115g)
2 large carrots, peeled and finely diced (375g)
1/2 medium zucchini, finely diced (260g)
4 ounces mushrooms, finely chopped (226g)
1/2 red bell pepper, finely diced (160g)
1-14.5 oz can organic diced tomatoes
1-15 oz can organic tomato sauce
1/2 teaspoon paprika or smoked paprika
1/2 teaspoon garlic powder
1/4 teaspoon pink Himalayan sea salt
1/4 teaspoon cracked black pepper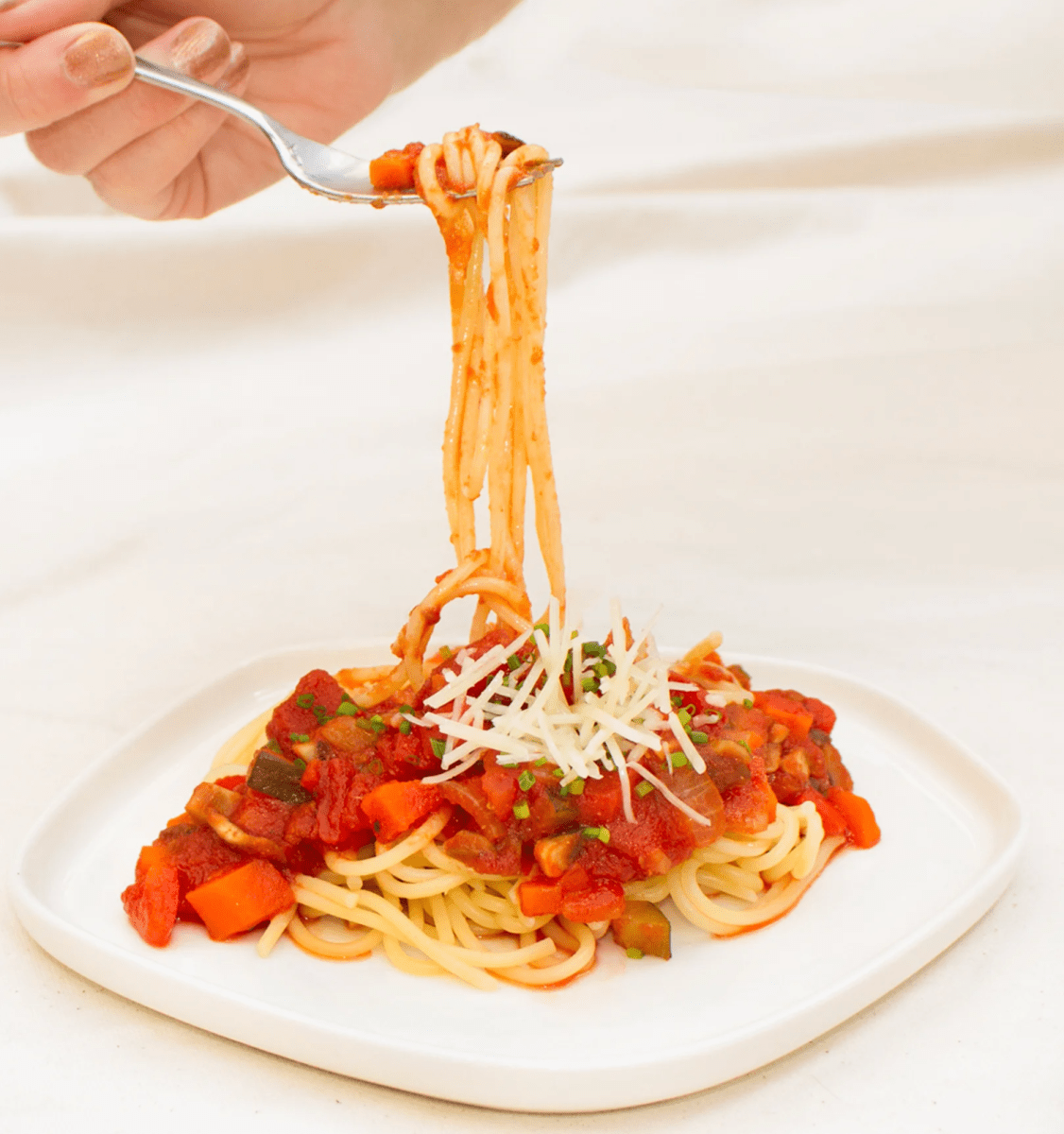 Method
Using medium-high heat, heat up a large saucepan. Add olive oil and onion. Sauté for 2-3 minutes, until onions begin to soften.
Add in diced carrots, zucchini, mushrooms, and bell pepper. Sauté for 8-10 minutes minutes, until the vegetables have begun to soften.
Once the vegetables are mostly soft, add in the diced tomatoes, tomato sauce, paprika, garlic powder, sea salt, and black pepper. Stir well to combine.
Simmer over low heat for 15-20 minutes.
Remove the sauce from the heat and serve immediately over pasta, or blend the sauce in a blender until smooth, and then serve over pasta.