Kabocha Squash Pie Recipe
---
Crunchy Cashew Crust. Smooth and Creamy Kabocha Squash Filling. Sweet and Salty Pepita & Pistachio Topping. All the textures you want from a pie – without the sugar overload.
There's no denying that the holidays and sugar go hand in hand. With cookies, gingerbread houses, and pumpkin pie, the holidays are a merry celebration with sugar on the side (all the sides). For those who are looking to take a sugar break or those who naturally prefer less-sweet desserts, our Kabocha Squash Pie is for you.
Kabocha squash is a Yumi favorite. It's a low-carb, fibrous fruit packed with beta carotene (which converts to vitamin A). Beta carotene improves blood, skin, and hair health. Kabocha squash is also a good source of iron, vitamin C, and B vitamins. If kombucha squash is not in season, butternut squash is a great substitute. We mix roasted squash with a little bit of almond milk, maple syrup, eggs, and spices to make an amazingly creamy filling. The crust is just right — made with cashews, oats, dates, maple syrup, and a pinch of salt. It's perfectly crunchy and subtly sweet. We top it all off with extra texture from pepitas, pistachios, and shaved tiger nuts.
Our Kabocha Squash Pie is perfect for any party. It is guaranteed to impress your friends. Not to mention, it's all prepared with just a few quick turns of your food processor. Want to make it easier to chew for younger tots? Swap the crunchy cashew crust for regular organic pie crust. You can turn it into a fun and easy baking project with the kids.
No matter how you make it, you can enjoy it all without the sugar overload.
*This recipe contains nuts.
Ingredients
Crust:
1 1/2 cups soaked cashews (soaked overnight) (335g)
1/2 cup oats (50g)
5 dates (40g)
1/4 cup maple syrup (80ml)
1/4 teaspoon salt
Filling:
2 tsp baking powder
1 tbsp ground cinnamon
1 tsp ground cloves
½ tsp salt
225g/8oz raisins
225g/8oz pecans
Topping:
1/4 cup pepitas (AKA pumpkin seeds)
1/4 cup pistachios
1 teaspoon maple syrup
1 tablespoon tigernuts, grated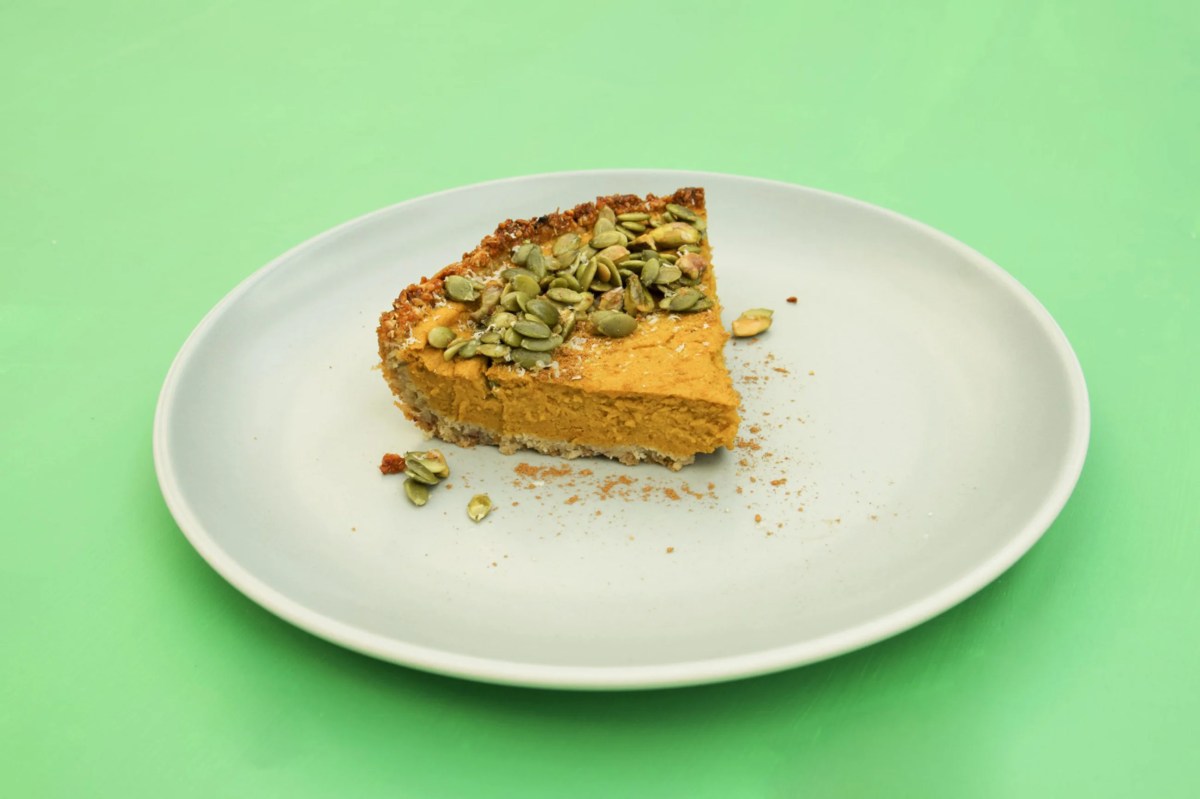 Method
Preheat the oven to 375F.
Drain all of the liquid from the cashews that you've soaked overnight.
Place all of the ingredients for the crust into a food processor. Blend until the cashew pieces are chopped well and the mixture is cohesive.
Spread the mixture into a pie pan as you would with any pie crust. Make sure that the mixture is spread evenly throughout.
Bake for approximately 20 minutes, until the edges of the crust are golden brown.
To prepare the filling of the pie, place all of the ingredients into a food processor and blend on low until completely smooth.
Fill the baked pie crust with the kabocha squash filling, and place it back in the oven for approximately 25 minutes.
Remove from the oven and allow to cool.
To prepare the topping, simply combine the pepitas and pistachios in a bowl. Mix in 1 teaspoon of maple syrup and heat the mixture in a frying pan for 2-3 minutes, then remove from heat.
Spread the nut mixture along the perimeter of the pie, and top it off with tigernut shavings.
If desired, add a dollop of fresh coconut cream and a sprinkle of cinnamon. Serve immediately, or store in the fridge for up to 3 days.
the mashed banana mixture until well combined.