Lemon Blueberry Muffins Recipe
---
Nothing quite says "grab-and-go" breakfast like a muffin. However, for your most important meal of the day, the muffin can often fall short. Most store bought muffins are just glorified cupcakes. They are filled with refined white flour, oil, and sugar. They lack any sort of fiber or protein, but come packed with carbs and…
Nothing quite says "grab-and-go" breakfast like a muffin. However, for your most important meal of the day, the muffin can often fall short. Most store bought muffins are just glorified cupcakes. They are filled with refined white flour, oil, and sugar. They lack any sort of fiber or protein, but come packed with carbs and saturated fats. But don't write off the muffin just yet. We like muffins sweetened by nature, not refined by sugar.
If you make them yourself, they can be the perfect morning fuel. To make these muffins both delicious and healthy we've omitted any refined sugar. Instead, this recipe is sweetened by nature itself, by using bananas, blueberries, and applesauce. To make them gluten-free, we've used a mixture of oat flour and coconut flour – but feel free to use whatever flours you have on hand.
We tossed blueberries into the mix because they are delicious and nutritious. They are packed with antioxidants, which support the heart and help decrease the likelihood of sickness and infections. They're also high in vitamin C and vitamin K. Vitamin C supports the immune system while vitamin K aids blood coagulation. To top it all off, blueberries are a great source of fiber, which promotes a healthy digestive system. A healthy digestive system = a happy tummy.
Ingredients
Wet Ingredients
2 mashed bananas (280g)
1/2 cup vanilla or coconut yogurt (113g)
1/2 cup applesauce (135g)
1/2 cup unsweetened almond milk or coconut milk
1 egg
Dry Ingredients
3/4 cup oat flour (110g)
3/4 cup coconut flour (110g)
2 teaspoons baking powder
1/2 teaspoon salt
Mix-Ins
16 oz. of fresh blueberries (or 1 cup of organic frozen blueberries)
Zest of 1 lemon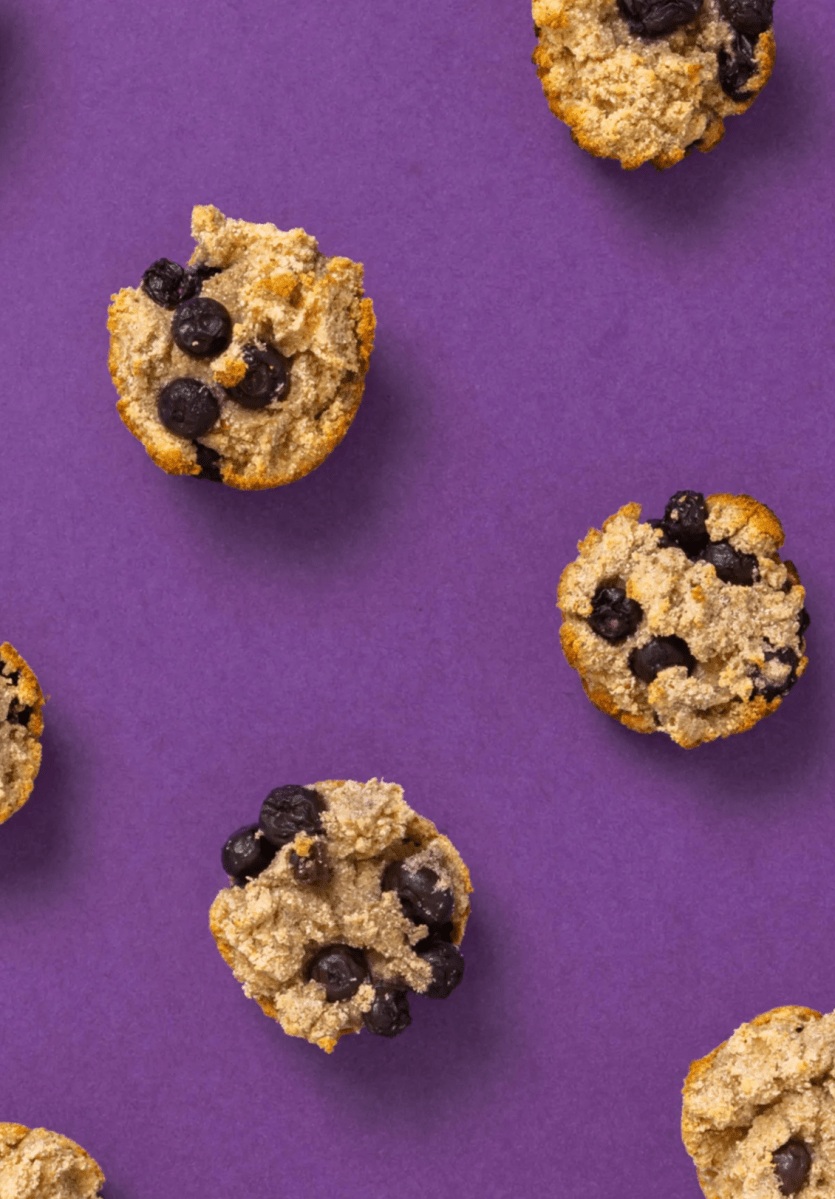 Method
Preheat the oven to 375F° degrees.
In a large mixing bowl, combine the wet ingredients. Mix well.
Add the dry ingredients into the bowl containing the wet ingredients. Mix well.
Using a spatula, gently fold in the blueberries and lemon zest.
In a paper-lined or greased mini muffin tin, pour in the muffin batter until the tins are 2/3 of the way full.
Bake for 22-24 minutes, until the tops of the mini muffins are golden brown. If you are using a full sized muffin tin, bake for 35-40 minutes.
Let cool, and enjoy!