All Star Mac & Cheese Recipe
---
According to toddlers, mac and cheese is the height of culinary ingenuity. Who's to say they are wrong? Unfortunately, with boxed macaroni, your only choices are powdered or rubbery liquid "cheese." loaded with carbs, sodium, preservatives, and not much else. Thankfully, if you think outside of the box, you can have a nutritious meal that…
In this recipe, we use nutritional yeast to make an ooey-gooey sauce. We also blend in some butternut squash for an extra vitamin boost (but don't worry, your little one will never notice). For the noodles, we use lentil pasta, which has double the amount of protein and fiber as regular pasta. Due to the increased nutrients, carbs are absorbed slowly and steadily into your little one's body. This keeps you and your kiddo fuller longer and avoids any blood sugar spikes.
Ingredients
1 large (or 1.5 small) fresh butternut squash – peeled, cut into 1" cubes (1.5 lb butternut squash) (680g)
Extra virgin olive oil
1 tbsp Earth Balance (or butter/other butter replacement)
3/4 cup unsweetened & unflavored milk or oat milk (or other milk substitute) (180g)
1 tbsp oat flour (or arrowroot powder)
5 tbsp nutritional yeast, or more to taste (25g) (You can also add some parmesan cheese — a quarter cup of grated cheese — to the mix, if you want a slightly cheesier finish)
2 tsp Dijon mustard
1 large clove of fresh garlic (or 2 smaller cloves)
1/2 tsp onion powder
1 tbsp fresh lemon juice (or juice from 1 whole lemon)
16 oz lentil pasta (455g)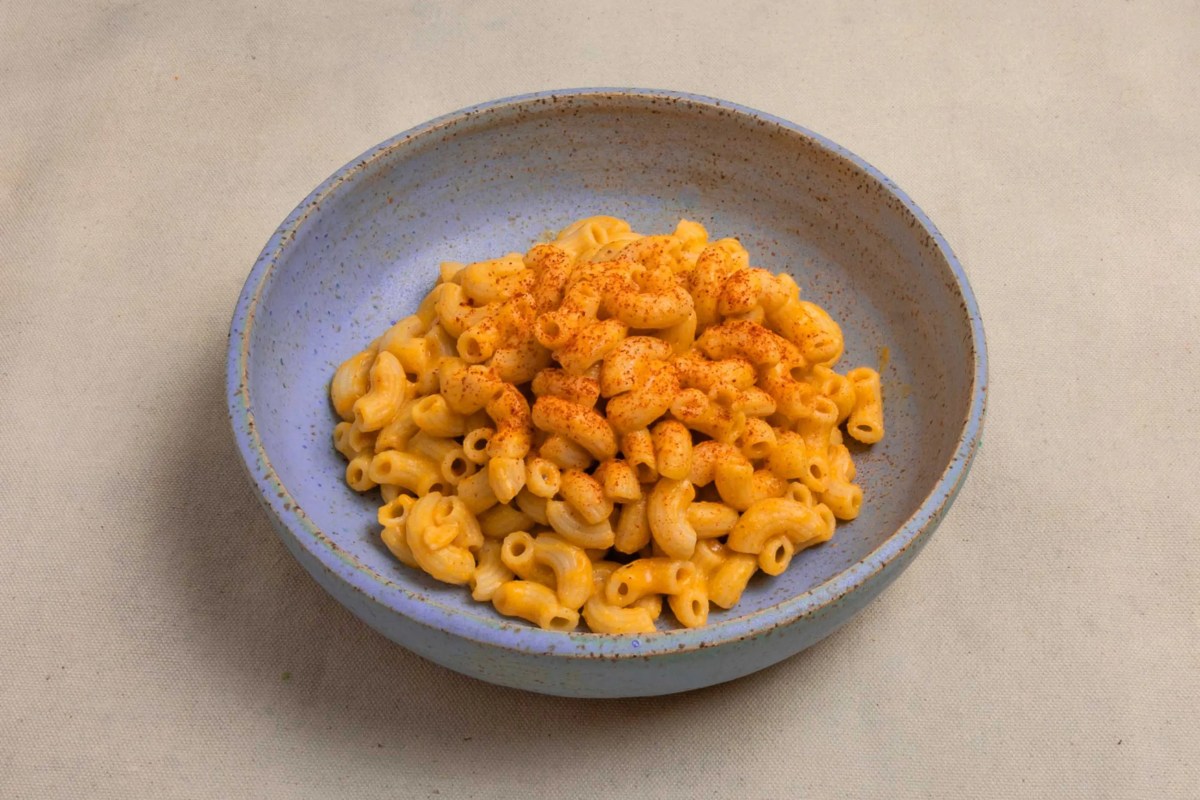 Method
Preheat your oven to 350F. Line a sheet tray with parchment paper. Toss your butternut squash with extra virgin olive oil and roast for about 40 minutes, uncovered, until tender.
Meanwhile, prepare the "cheese" sauce in a pot on the stove top. Add Earth balance butter (or butter) over medium heat.
In a bowl, whisk together milk and arrowroot powder (or cornstarch or flour) until clumps are gone. Add into the pot and whisk.
Whisk in nutritional yeast, Dijon, onion powder, and garlic, over low heat until thickened (about 5-7 minutes).
Cook your pasta according to package directions. Rinse with cool water and toss with olive oil.
In a blender, blend the sauce with roasted squash and Yumi's All-Star soup if you have it. Add lemon juice and additional stock / oat milk until smooth.
Add salt (if your child is over 1) and pepper to taste.
Toss cooked pasta with sauce and mix until well coated.
Note: To sneak in even more veggies, toss in a jar of our All Star Soup. It is a combination of broccoli, sweet potato, butternut squash, carrots, and nutritional yeast. By tossing this in, you add a dose of calcium, iron, potassium, zinc, magnesium, and a whole host of vitamins.