Sweet Potato & Millet Falafel Bites Recipe
---
We're always on the hunt for recipes that are nutritious-enough for babies, but delicious-enough for the most discerning foodies. This recipe features the chickpea, which is a protein-packed legume, and most well known as the primary ingredient for hummus. Sweet potatoes are low on the glycemic index, making them a smart alternative to more starchy…
We're always on the hunt for recipes that are nutritious-enough for babies, but delicious-enough for the most discerning foodies. This recipe features the chickpea, which is a protein-packed legume, and most well known as the primary ingredient for hummus. Sweet potatoes are low on the glycemic index, making them a smart alternative to more starchy foods, such as pasta and rice. Last but not least, millet is a grain that is traditionally used in cereal, as well as breads, and is rich in many vitamins and minerals.
Our combination of herbs, spices, and power-packed ingredients makes this an amazing finger food for the whole family.
Ingredients
1 cup dried chickpeas, soaked for 24 hours (180g)
1 cup mashed, cooked sweet potato (230g)
¼ cup yellow onion, diced (40g)
2 teaspoons minced garlic (about 3 cloves) (15g)
¼ cup fresh parsley, chopped (6g)
¼ cup fresh cilantro, chopped (6g)
1 teaspoon ground cumin
½ teaspoon pink Himalayan sea salt
½ teaspoon ground black pepper
1 cup cooked millet (½ cup of millet + 1 cup of vegetable broth) (140g)
Coconut oil, for greasing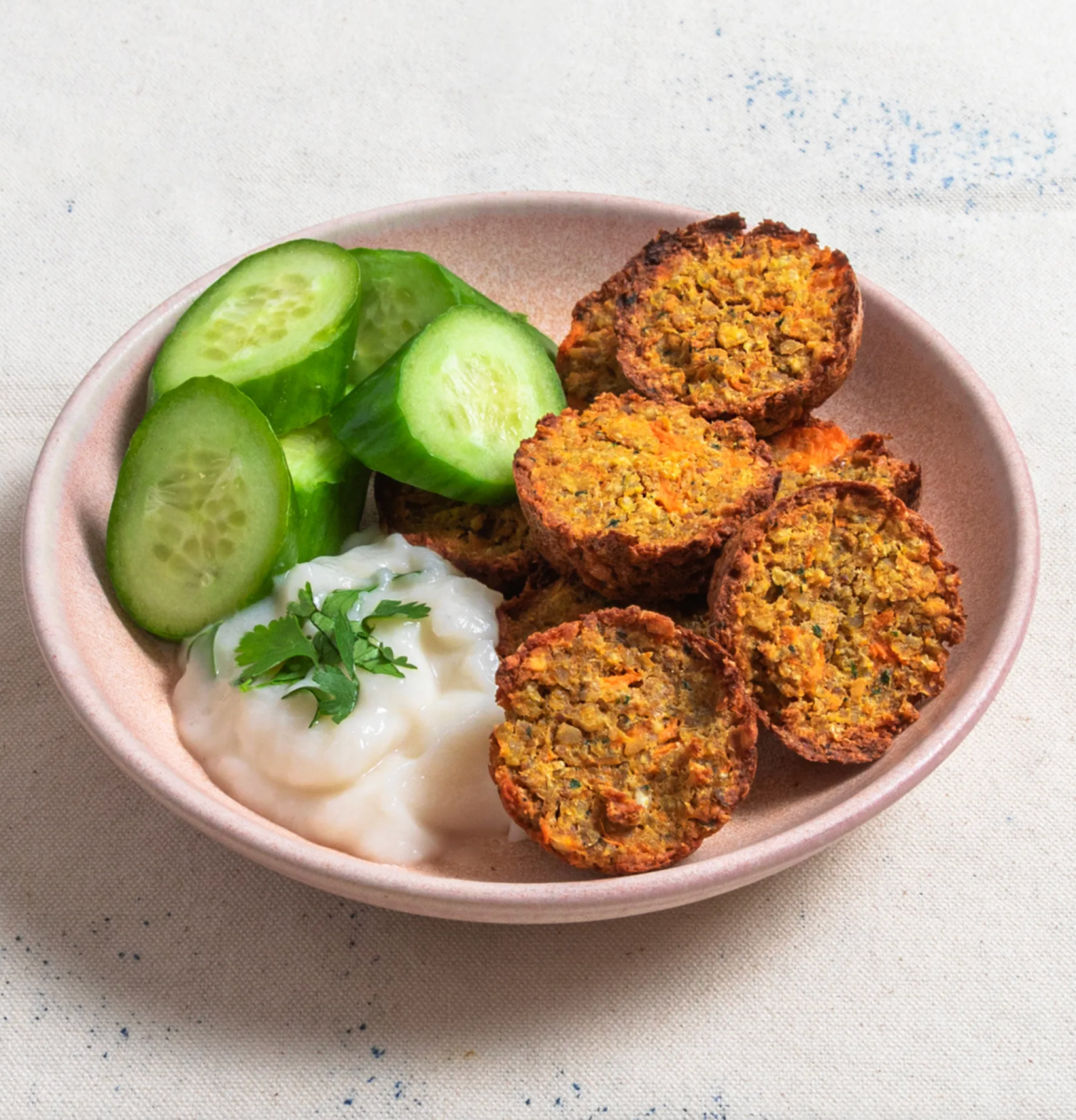 Method
Preheat the oven to 400F, and grease a mini muffin pan (with 24 wells) with coconut oil.
In a food processor, combine soaked chickpeas, cooked sweet potato, diced onion, garlic, parsley, cilantro, cumin, salt and pepper.
Begin to blend the mixture in the food processor, taking breaks to scrape the insides of the food processor. You want the mixture to be well-combined, but still have good texture.
Place the blended mixture in a large bowl, and mix in cooked millet with a spatula.
Using a small ice cream scoop, create 24 balls from the falafel mixture, and place in the wells of the muffin pan.
Bake for 30 minutes, flipping the bites halfway through. The bites may still be soft when you flip them but they will crisp on the edges by the end of the cooking period.
Once the bites are done, remove them from the oven and allow them to cool slightly before serving.
Serving Tip: Dip the falafel bites in a yogurt and herb sauce, such as a homemade tzatziki sauce.