Oat, Pecan, & Chocolate Chip Cookie Recipe
---
Finding a balance between eating healthy and indulging occasionally is a real art. We want to give our bodies the best, most nutritious foods possible – and we want to teach our children how to do the same. However, sometimes we just want a damn cookie.
Our oat, pecan, and chocolate chip cookies can satisfy the most intense cookie cravings. It offers chewiness, crunchiness, nuttiness, and maple-y sweetness. We've kept the sugar content fairly low in this recipe by using maple syrup as the sweetener. We also used a mix of whole wheat and coconut flour, but you can make it gluten-free by substituting your favorite GF blend.
Feel free to get creative with your mix-ins, too. We used dairy-free chocolate chips and chopped dates, but you can add in any other chocolate-y mix-in or dried fruit. Whatever you choose, they're bound to be utterly delicious.
Ingredients
Part 1:
8 ounces pecans
1 cup oats
Part 2:
1 cup oats
3/4 cup maple syrup
1/2 cup whole wheat flour
2 tablespoons coconut oil
2 teaspoons vanilla
1 teaspoon baking soda
1 teaspoon cinnamon
1/2 teaspoon salt
Part 3:
1/2 cup mini chocolate chips
4 large dates, chopped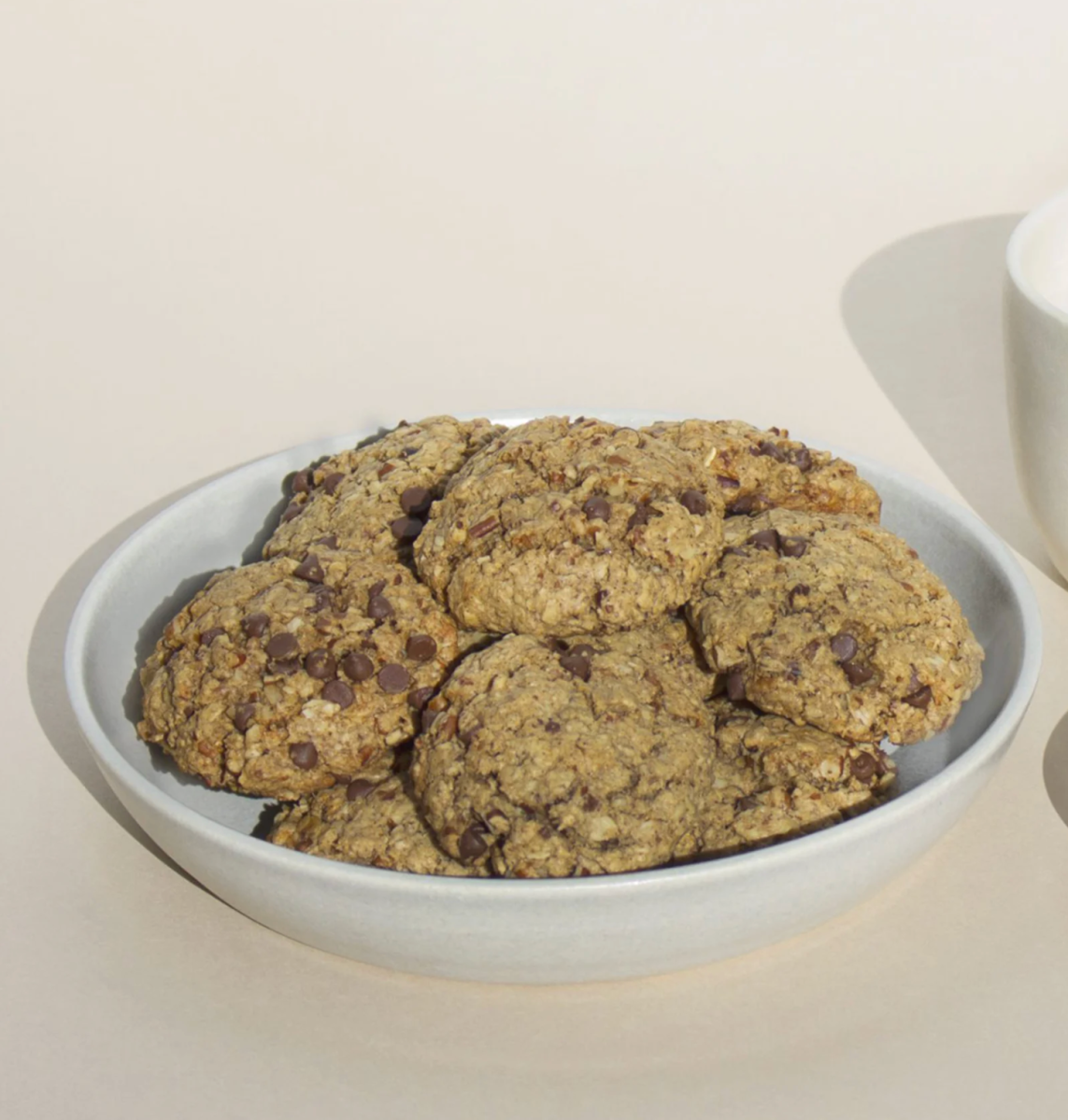 Method
To toast your pecans, toss them into a medium non-stick saute pan and saute for 2-3 minutes. Stir constantly until they are lightly browned and fragrant.
Preheat your oven to 375F degrees.
In a food processor, combine toasted pecans and 1 cup of oats.* Pulse until the pecans and oats are mostly finely ground, with a little bit of texture remaining.
Transfer the ground pecans and oats into a bowl. Add in the remaining oats, maple syrup, whole wheat flour, coconut oil, vanilla, baking soda, cinnamon, and salt. Mix well to combine.
Gently fold in mini chocolate chips and chopped dates.
Using an ice cream scoop or spoon, scoop the dough into 1-inch balls and place onto a non-stick cookie sheet.
Bake for 15-18 minutes, until the edges are golden brown.
*For a less textured cookie, you can blend all the oats instead of just one cup.