Red Risotto Recipe
---
The risotto we remember from childhood was thick, creamy, and loaded with butter and cheese. We're happy to report that risotto can be colorful, easy to make (we promise) and even healthy. Now let's talk about the ingredients. Vegetable broth adds loads of flavor, a subtle saltiness, and tons of nutrients. Beets are a beautiful…
The risotto we remember from childhood was thick, creamy, and loaded with butter and cheese. We're happy to report that risotto can be colorful, easy to make (we promise) and even healthy.
Now let's talk about the ingredients. Vegetable broth adds loads of flavor, a subtle saltiness, and tons of nutrients. Beets are a beautiful red root vegetable. They are a great source of fiber, vitamin C, magnesium, and potassium. While some adults either love them or hate them, it's important to let your kiddos try out this root vegetable. Tomatoes are a bright red, edible fruit that belongs to the nightshade family, and contain an antioxidant called lycopene, which reduces the risk of heart disease and cancer. Tomatoes are also high in vitamin C, potassium, folate, and vitamin K.
Ingredients
2 tablespoons olive oil
1 small onion, diced (150g)
1 medium beet, peeled and diced (80g)
2 small tomatoes, diced
1 cup arborio rice (200g)
1 1/2 cups vegetable broth (320g)
Chopped chives, for garnish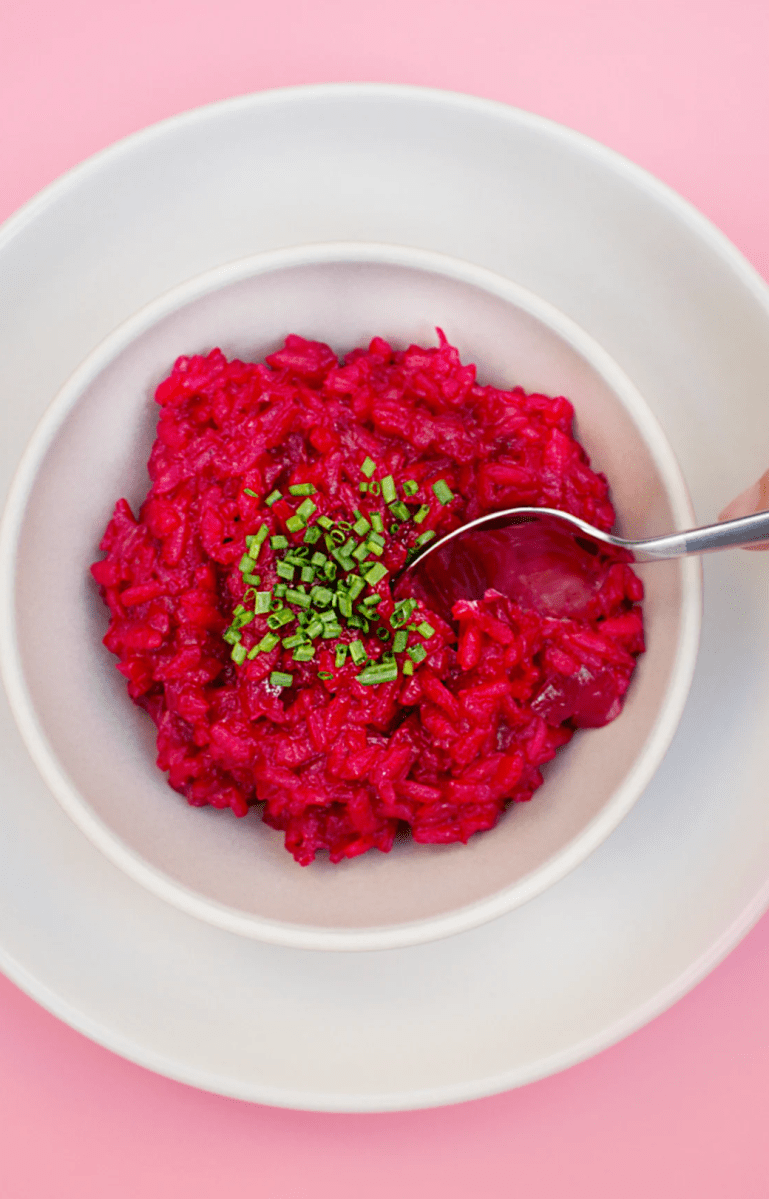 Method
Heat up a medium sauté pan. Combine olive oil, diced onions and diced beets. Sauté over medium heat for 5-7 minutes, until the onions and beets are soft.
Add in the diced tomatoes and sauté for an additional 2-3 minutes.
Remove the pan from heat. Place the onion, beets, and tomato into a blender and blend until smooth. Set aside.
Reheat your sauté pan. Sauté the arborio rice over medium heat for 2-3 minutes, allowing it to toast slightly.
Add in vegetable broth 1/2 cup at a time, making sure that the liquid is fully absorbed before adding another 1/2 cup of broth.
Once the rice has absorbed the final 1/2 cup of vegetable broth, add in the pureed onion, beets, tomatoes, and mix well. Keep over the heat for 2-3 minutes, then remove from heat.
If desired, garnish with fresh chopped chives, then serve.