Salmon, Orzo, and Broccoli Dinner Recipe
---
Saying that dinnertime can be stressful is an understatement. You want something easy and light, your spouse wants something hearty, your kid just wants mac and cheese— and everyone is on the precipice of "hangry."Thankfully, this dish is a crowd pleaser and can be pulled together in under 30 minutes. Serve it with some steamed…
Saying that dinnertime can be stressful is an understatement. You want something easy and light, your spouse wants something hearty, your kid just wants mac and cheese— and everyone is on the precipice of "hangry."Thankfully, this dish is a crowd pleaser and can be pulled together in under 30 minutes. Serve it with some steamed veggies and you're good to go.
Looking for some time saving hacks? Here are some tips for pulling together quick dinners.
Bottled Lemon Juice: A bottle can last up to six months in the fridge, and saves you the guilt of throwing away spoiled lemons.
Garlic & Onion powder: We all know that fresh tastes best, but moms often don't have the time to cry over chopped onions or peel sticky garlic. Tag in the powdered varieties on overwhelming days.
Steam-In-Bag Vegetables: Many people are hesitant to buy vegetables from the freezer section, but as long as they're organic and additive-free, it's worth it. They are just as nutritious as fresh veggies, and are harvested at the peak of the season.
Garlic Citrus Salmon
Ingredients
1 tablespoon butter or ghee
1 large salmon steak, organic and boneless
2 teaspoons minced garlic
Juice of 1/2 a lemon (2 tbsp)
Dash of salt + pepper
Fresh lemon wedges and herbs, if desired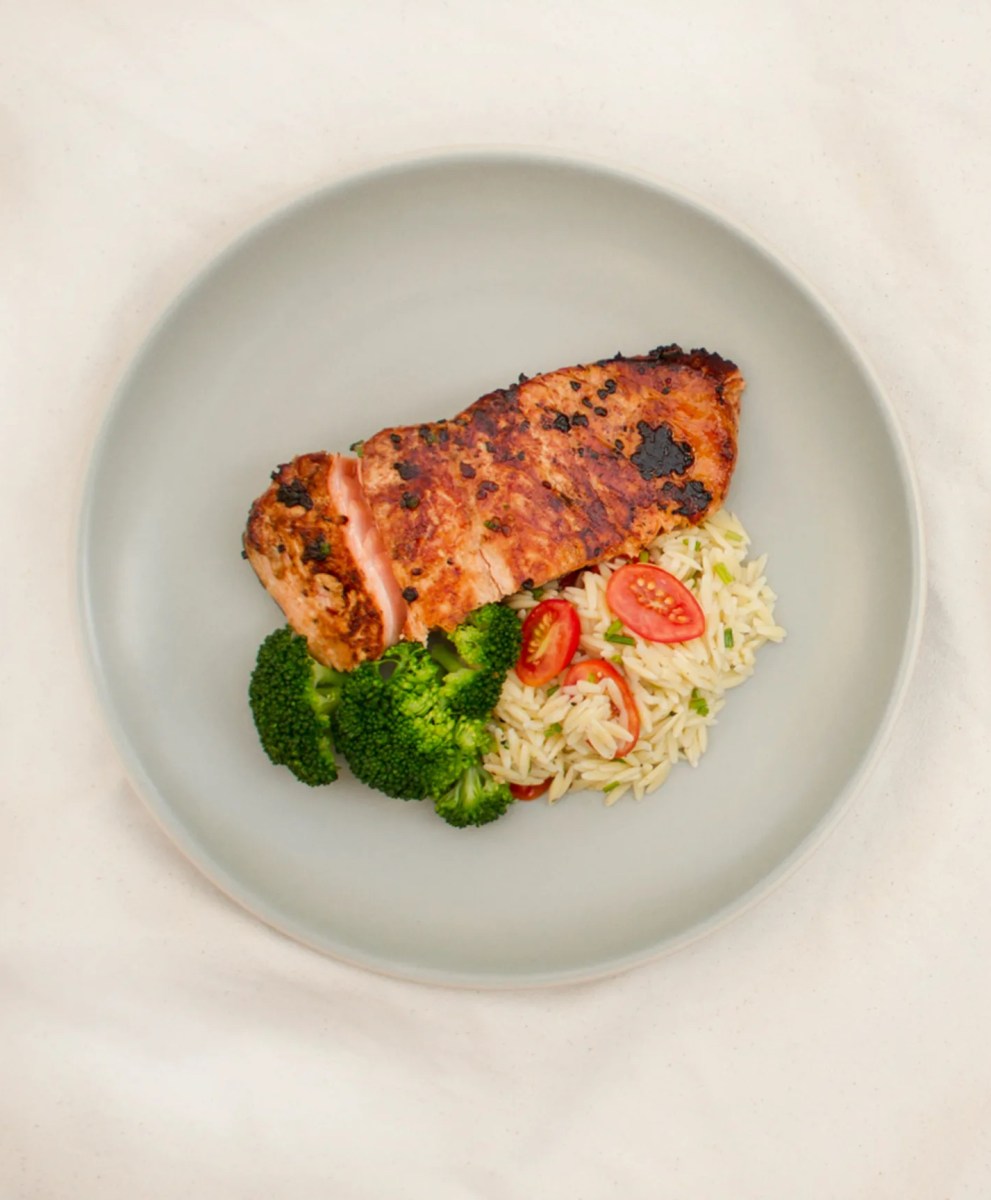 Method
Begin by placing a large non-stick pan over medium-high heat.
Add butter or ghee, and allow to melt slightly.
Add in the salmon steak, minced garlic, juice of 1/2 a lemon, salt, and pepper.
Cook the salmon steak for approximately 4 minutes on each side, until the salmon is browned on the outside, and tender and flaky on the inside.
Garnish with a spritz of fresh lemon juice and/or fresh herbs.
Citrusy Orzo + Tomatoes
Ingredients
8 ounces orzo pasta (1/2 of a standard one-pound box)
1/2 pint cherry tomatoes, sliced in half
Juice of 1/2 a lemon (2 tbsp)
1 tablespoon olive oil
1-2 teaspoons chopped chives
Dash of salt + pepper
Method
Cook orzo in a pot of boiling, salted water according to package directions.
Strain and rinse the pasta until cooled.
In a large bowl, combine orzo, cherry tomatoes, lemon juice, olive oil, chopped chives, salt, and pepper. Gently mix until well-combined.
*Want to add even more flavor? Add in 1/4 of grated parmesan or 1/2 cup of crumbled feta. Delish!