Split Pea Dip Recipe
---
Split peas have been a food staple for thousands of years. Back in 500 BC, it was a common street food in Athens, where vendors would hawk bowls of hot pea soup. Today, the humble split pea is ubiquitous around the world and a key ingredient in many hearty dishes. Our split pea dip is…
Split peas are packed with fiber, protein, copper, phosphorus, B vitamins, potassium and so much more. Best of all, the flavor is mild, which makes it a great transition food. We encourage you to let your little one dunk whatever food they would like into this dip– heated Pita bread, soft-cooked carrots, and apples are all great options.
Ingredients
1 tablespoon olive oil
¼ of a medium-sized onion, diced
1 garlic clove, minced
1 teaspoon dried basil / 2 tablespoons fresh basil, chopped
½ cup dried green split peas, rinsed (112g)
2 ½ cups water (590 ml)
Zest of ½ a lemon
Juice of half a lemon
1 teaspoon olive oil
Fresh basil, for garnish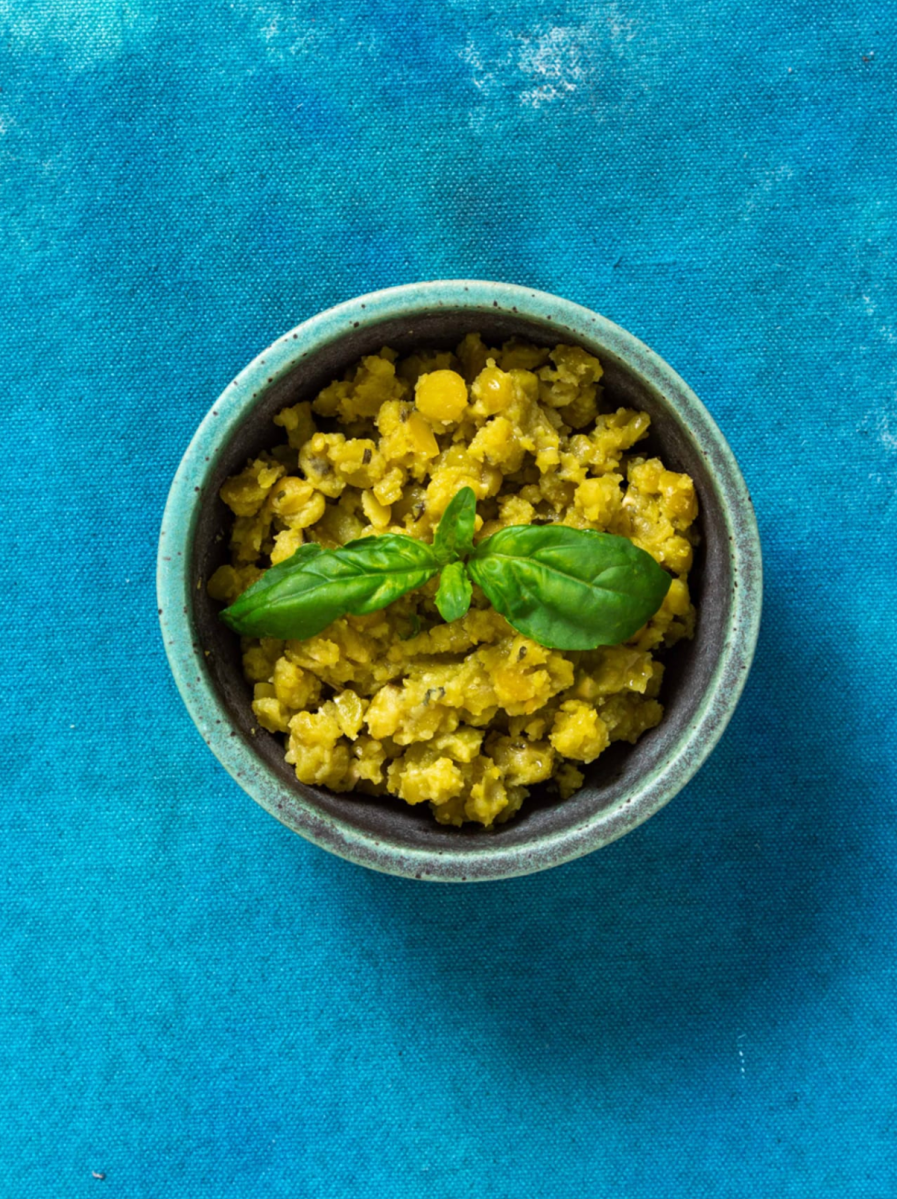 Method
Using medium-high heat, warm up a medium saucepan. Add your olive oil and onions. Sauté for approximately 5 minutes, until onions are soft and translucent.
Add minced garlic and dried basil (or fresh), and cook for 1 more minute. Add 2 ½ cups of water and bring to a boil. Add split peas and reduce to a simmer.
Simmer, uncovered, for approximately 40-50 minutes. Remove from heat and allow to cool.
In a mixing bowl, combine cooled, cooked split peas, lemon zest, lemon juice, and olive oil. Mix until well combined.
Garnish with fresh basil, if desired.
Note: If your baby is 1+, add ⅛ tsp of salt, if desired.