Squash & Greens Frittata Recipe
---
If you're familiar with Yumi, then you're probably familiar with our truly delicious Squash + Greens blend. It features oodles of nutrients, from vitamin K-packed kale (yay for heart health!) to beta-carotene-packed butternut squash (which converts to Vitamin A in the body). It's a nutrient-powerhouse for the littlest person in your house. However, this delicious…
If you're familiar with Yumi, then you're probably familiar with our truly delicious Squash + Greens blend. It features oodles of nutrients, from vitamin K-packed kale (yay for heart health!) to beta-carotene-packed butternut squash (which converts to Vitamin A in the body). It's a nutrient-powerhouse for the littlest person in your house. However, this delicious combo isn't just for babies. We've turned it into an amazing and simple frittata for all.
This recipe incorporates fresh kale, diced onion, and butternut squash (you can use pre-roasted or frozen). In addition to beta-carotene, butternut squash is full of fiber, vitamin C, vitamin E, potassium, and manganese. Kale provides you and your little one healthy and nutrient-dense fiber. It'll keep your tummies happy and healthy, all while nourishing your body.
The great thing about frittatas is that they can actually be made ahead of time. Whip up a frittata and keep it in your fridge for up to 48 hours. To reheat, just cut a slice, pop it in the microwave for 30 seconds, and voila!
Ingredients
1 small onion, diced
2 tablespoons olive oil
2 cups fresh kale (40g)
1/2 cup fresh or frozen butternut squash (80g)
6-8 eggs
2 tablespoons whole milk or almond milk
1 teaspoon garlic powder
1/2 teaspoon Kosher salt
1/2 teaspoon freshly ground black pepper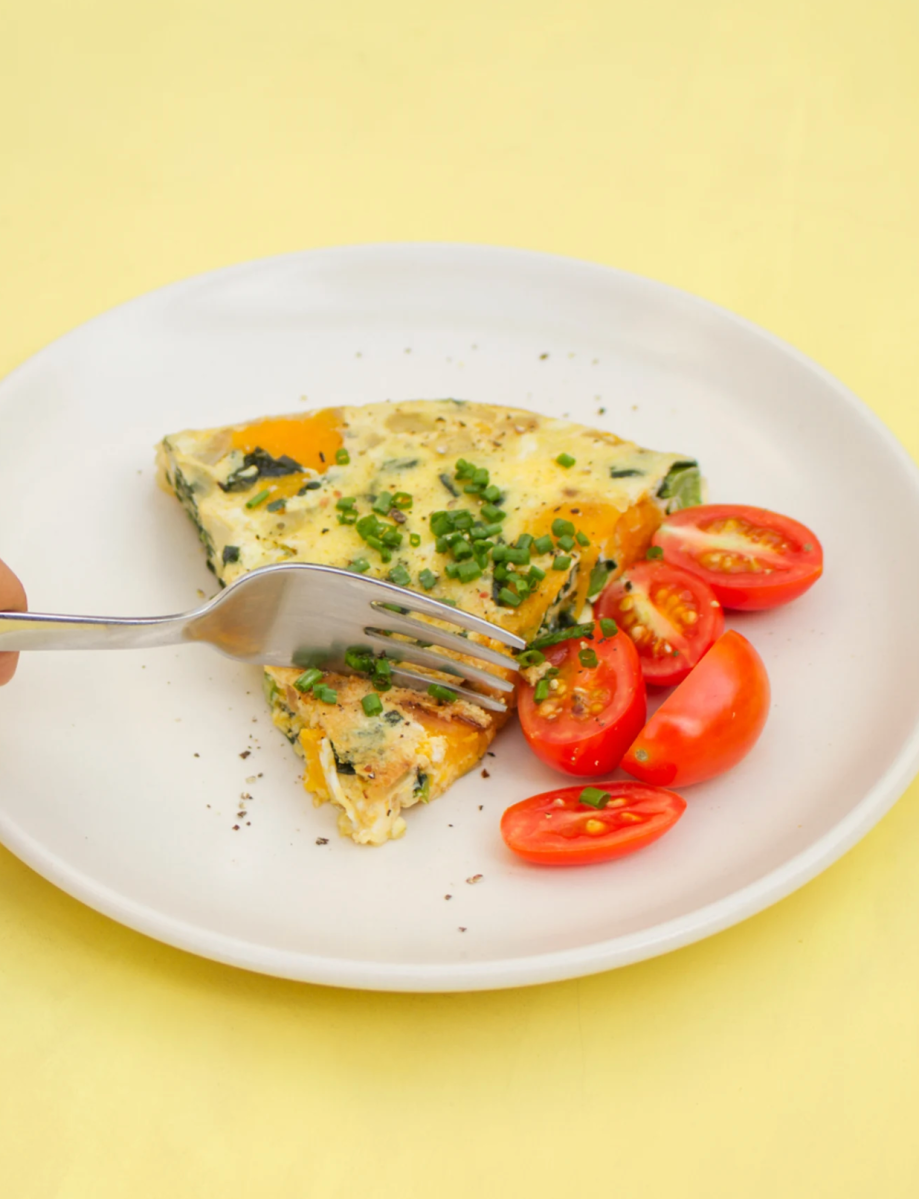 Method
Preheat the oven to 400F.
In a large mixing bowl, combine the eggs, milk, garlic powder, salt, and pepper. Mix well with a whisk and set aside.
In a medium-sized sauté pan, combine olive oil, onions, kale, and butternut squash. Over medium-high heat, sauté for 7-8 minutes, until the vegetables are soft.
Add in the egg mixture and mix into the veggies, stirring constantly for one minute. Remove the pan from the heat (eggs will still be very runny – they'll finish cooking in the oven) and place the pan in the oven.
Bake for approximately 10 minutes, then remove from the oven and allow to cool slightly before slicing and serving.
Notes:
If you are a Yumi subscriber, we have the ultimate parenting hack. Instead of using the kale and butternut squash listed in the recipe below, you can simply add our Squash + Greens blend to the meal. Just sauté the onions in olive oil, and toss the contents of your Squash + Greens jar into the frying pan. Sauté for 30 seconds before adding the egg mixture. Instead of sautéing the veggies and the eggs for one minute, sauté them for about a minute and a half, since the mixture will have a bit more liquid. Then place it in the oven and bake as per the directions below – yum!