Super Power Muffins Recipe
---
It's difficult to find options that are both healthy and convenient for little ones. Most convenient options aren't healthy, and healthy options can be way too time-consuming. Your little one is rapidly growing, and the tummy grumbles make round-the-clock appearances. Once the hangry sets in, you are looking at an epic mini meltdown. These muffins…
It's difficult to find options that are both healthy and convenient for little ones. Most convenient options aren't healthy, and healthy options can be way too time-consuming. Your little one is rapidly growing, and the tummy grumbles make round-the-clock appearances. Once the hangry sets in, you are looking at an epic mini meltdown.
These muffins are the perfect cure for your ticklish ticking time-bomb. They are portable, adorable, and way better for you than anything in aisle 6.
We've packed them with nutrients, and omitted added sugar or salt. Soft in texture, they are perfect for tots who are lacking teeth. You can even make an extra large batch and keep them in the freezer for up to a month.
This recipe is also perfect for making with your toddler. You can let them mash the avocado and banana, stir the muffin mixture, and sprinkle the cinnamon. You'll have a little sous chef in no time!
Ingredients
1 avocado, mashed
1 banana, mashed
1 cup pumpkin or sweet potato puree
1/2 cup unsweetened applesauce
1 teaspoon vanilla extract
1/2 cup coconut flour
2 cups rolled oats
2 teaspoons cinnamon
1 teaspoon baking powder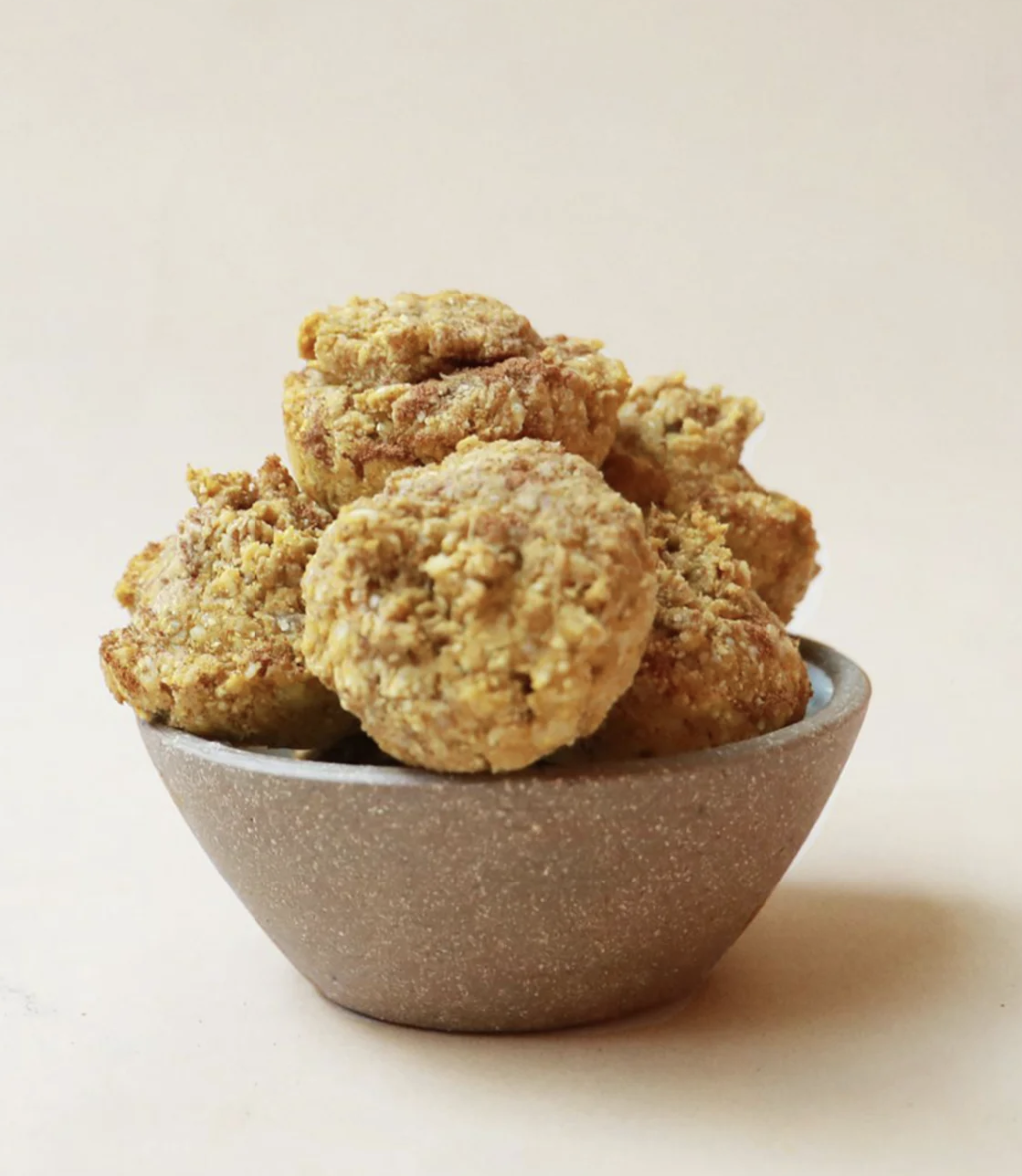 Method
Preheat oven to 400°F.
In a large bowl, mash one banana and one avocado.
Add in the liquid ingredients (sweet potato or pumpkin puree, applesauce, and vanilla extract). Mix until fully combined.
Add the dry ingredients (coconut flour, rolled oats, baking powder, and cinnamon). The mixture will be fairly thick.
Add the batter to a piping bag, and pipe into a non-stick mini muffin tray. Sprinkle the tops of the muffins with cinnamon.
Bake for 14-16 minutes until the muffins are golden brown.
*If you want a sweeter treat for yourself, add a quarter cup of honey or maple syrup (into the liquid ingredients) and 1/2 a teaspoon of kosher salt (into the dry ingredients).