Baked Sweet Potato Latkes Recipe
---
Crispy latkes – without all the oil. Yep, we're in.
Latkes are a classic. They are golden crispy deliciousness. While we're total suckers for comfort foods, a plate full of latkes can often lead to a bloated tummy. We're always on the hunt for ways that we can prepare holiday classics with healthier ingredients. Hence, this recipe for our baked sweet potato latkes.
Believe it or not, crispy baked latkes are possible. Sweet potatoes are low on the glycemic index, so we have used them as a substitute for their starchier counterparts. Sweet potatoes are also packed with potassium, beta carotene, vitamin C, vitamin B6, and many other vitamins and minerals. The oats add an extra dose of fiber. This will leave you feeling full for longer, so you can dodge those post-meal cravings.
Make these for the whole family, or make them into bite-size latkes for your little one. The best part is, they keep well in the fridge. So if you're looking for a snack that you can make ahead of time, this is a great option. You can even serve them at a party paired with creamy horseradish sauce or herbed feta dip. The possibilities are endless.
L'chayim!
Ingredients
2 cups shredded sweet potato (660g)
1/2 cup oats
1 egg (60g)
2 tablespoons almond flour
1 tablespoon dried minced onion
1 clove of garlic, chopped
1/2 teaspoon cumin
3/4 teaspoon salt
1/2 teaspoon black pepper
2 tbsp olive oil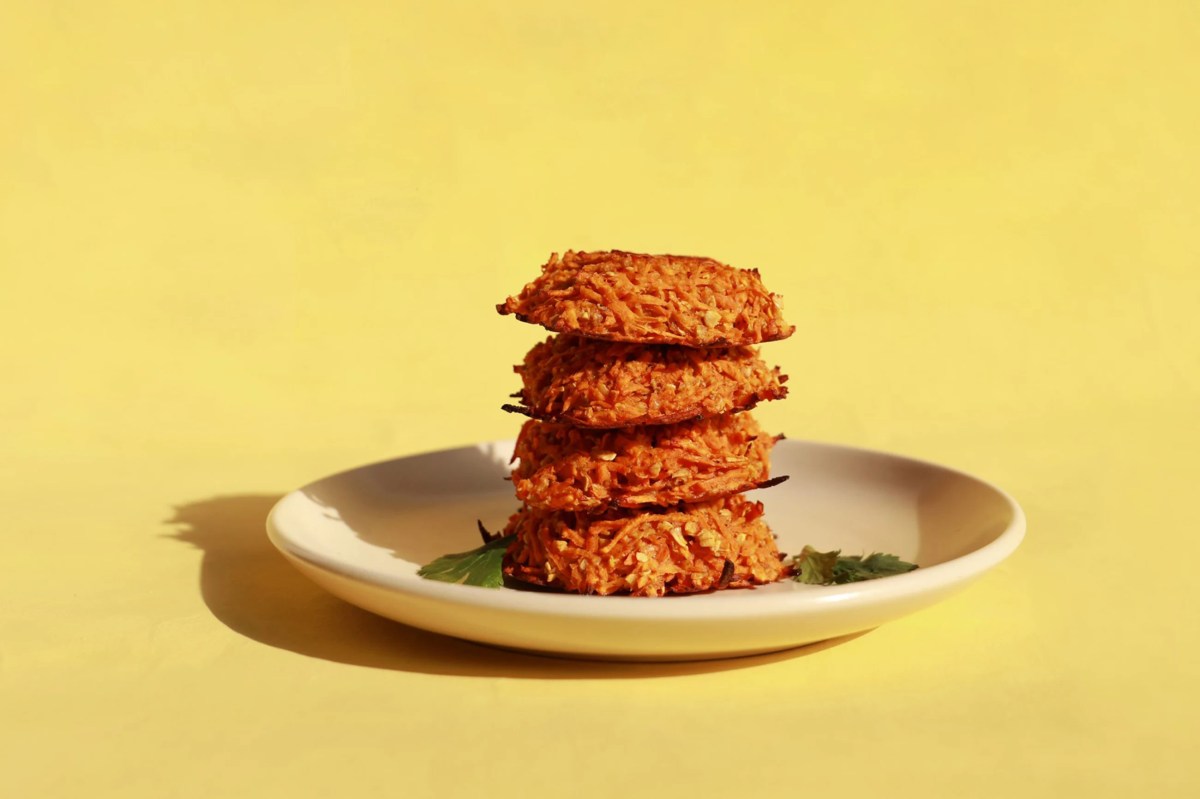 Method
In a large bowl, combine shredded sweet potato and oats, let them sit for approximately 30 minutes. This allows the oats to soak up moisture from the shredded sweet potato.
Add the egg, almond flour, minced onion, garlic, cumin, salt, and pepper. Mix until well-combined.
Preheat the oven to 375F, and line a baking sheet with parchment paper.
Using your hands, form small patties with the sweet potato mixture. Lightly brush each side of the latke with olive oil
Carefully place the formed patties onto the parchment-lined paper.
Bake the latkes for approximately 15 minutes, then flip and put them back in the oven for another 7-8 minutes, until they're crispy.