Turkey & Apple Meatballs Recipe
---
A sauce-stained high chair and noodles on the floor, spaghetti and meatballs is a rite of passage for every child. Unfortunately, traditional meatballs can leave much to be desired. They are typically a sphere of fatty meat, bread crumbs, salt, and butter. These turkey meatballs are healthy, full of flavor, and juicy.
All too often, because of the lower fat content, turkey meatballs end up dry. We keep the meatballs moist by adding two simple ingredients – apples and carrots. Their high moisture content seeps into the meatball while cooking. They also work as binders to keep the meatballs together.
They say "an apple a day keeps the doctor away" for a reason. Apples are brimming with fiber, vitamin C, vitamin B6, and antioxidants. Red apples contain antioxidants called anthocyanins, which help maintain cardiovascular health and a healthy gut biome.
You can eat these meatballs on their own, or stack them on top of some spaghetti squash noodles and smother them in our hidden veggie pasta sauce. Either way, your baby will gobble these up so quickly, you won't even have time to say, "Arrivederci!"
Ingredients
1 cup oats (100g)
1/2 apple, peeled and diced (85g)
1/2 cup loosely packed shredded carrots (105g)
2 tablespoons diced onion (20g)
1 tablespoon fresh or dried oregano
2 teaspoons minced garlic, about 3 cloves (7g)
1 teaspoon salt
1/2 teaspoon paprika
1/4 teaspoon black pepper
1/4 teaspoon chili powder, if desired
1 lb ground turkey (450g)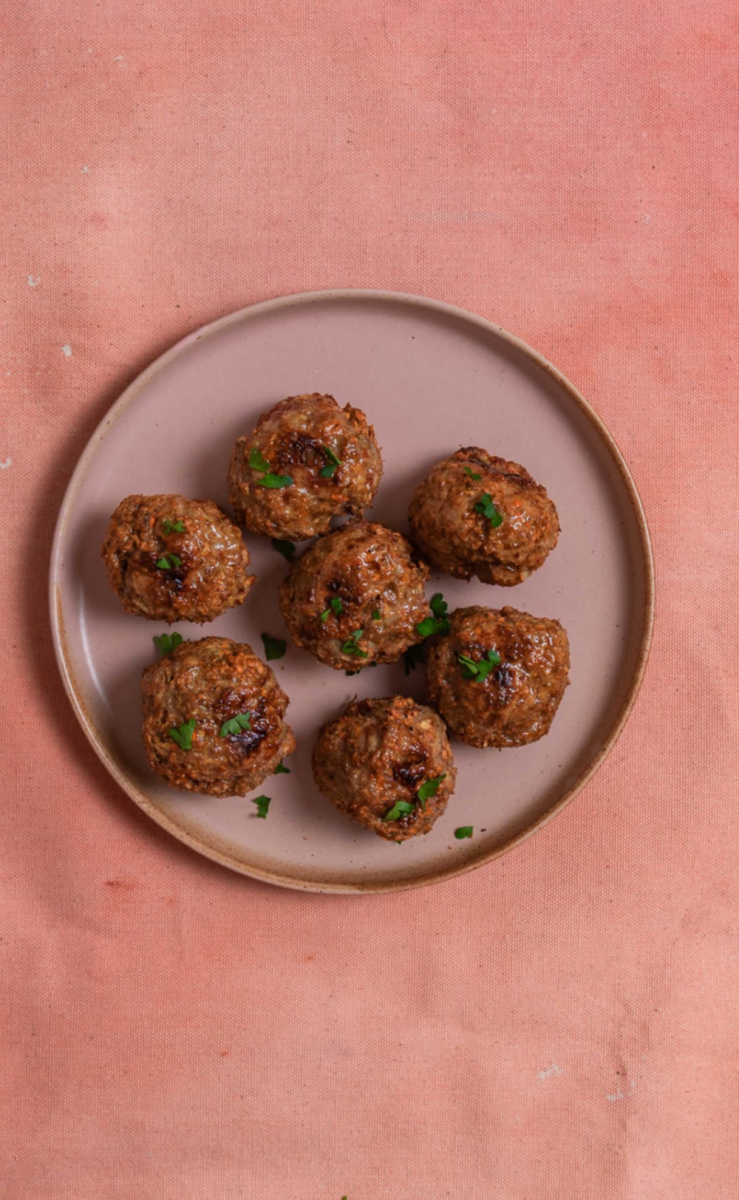 Method
Preheat the oven to 400F degrees. Prepare a baking sheet by lining it with parchment paper.
In a food processor, combine oats, chopped apple, shredded carrots, diced onion, oregano, garlic, salt, paprika, black pepper, and chili powder.
Pulse the food processor until the ingredients are finely chopped and well-combined.
Remove the mixture from the food processor and place it into a large mixing bowl.
Using a large spoon, mix your raw ground turkey into the oat mixture.
Using a spoon, scoop a golf-ball sized amount and form into a ball. Place the meatballs on the parchment-lined baking sheet.
Bake for 14-16 minutes, until the meatballs are cooked all the way through, and the outsides are golden brown.
Let cool and enjoy!
Note:
If you prefer you can swap the turkey meat for a plant-based beef substitute.