Vegetable & Lentil Coconut Curry Recipe
---
Curry is one of the most comforting flavors in the world. One taste immediately conjures memories of favorite dishes from Thailand and India. Curry — which typically consists of turmeric, coriander, cardamom, cumin, sweet basil, and red pepper, is a healthy way to bring dynamic flavor to vegetarian and vegan dishes. Turmeric has become increasingly…
Curry is one of the most comforting flavors in the world. One taste immediately conjures memories of favorite dishes from Thailand and India. Curry — which typically consists of turmeric, coriander, cardamom, cumin, sweet basil, and red pepper, is a healthy way to bring dynamic flavor to vegetarian and vegan dishes. Turmeric has become increasingly popular as an anti-inflammatory. Cumin aids in digestion and also provides a bit of iron.
The elements in this dish aren't only flavorful, they are beneficial as well. Carrots are rich in fiber, beta carotene, vitamin K, and manganese. These minerals contribute to healthy bone structure and vision. Celery adds an extra dose of vitamin K and folate. Vegetable broth is not only warm and soothing, it also comes with tons of vitamins and minerals. Coconut milk is what makes this meal. It adds a creamy texture and healthy fats that help you feel satiated. Lentils and brown rice add additional fiber and nutrients to this already nourishing meal.
Ingredients
1 small onion, diced
1 tablespoon olive oil or coconut oil
4 carrots, peeled and diced (290g)
3 stalks of celery, diced (100g)
4 cups sodium free vegetable broth (950 ml)
1 cup coconut milk (240g)
1/2 cup green lentils (75g)
1/2 cup long grain brown rice (75g)
2 teaspoons curry powder
1/4 teaspoon salt
1/4 teaspoon pepper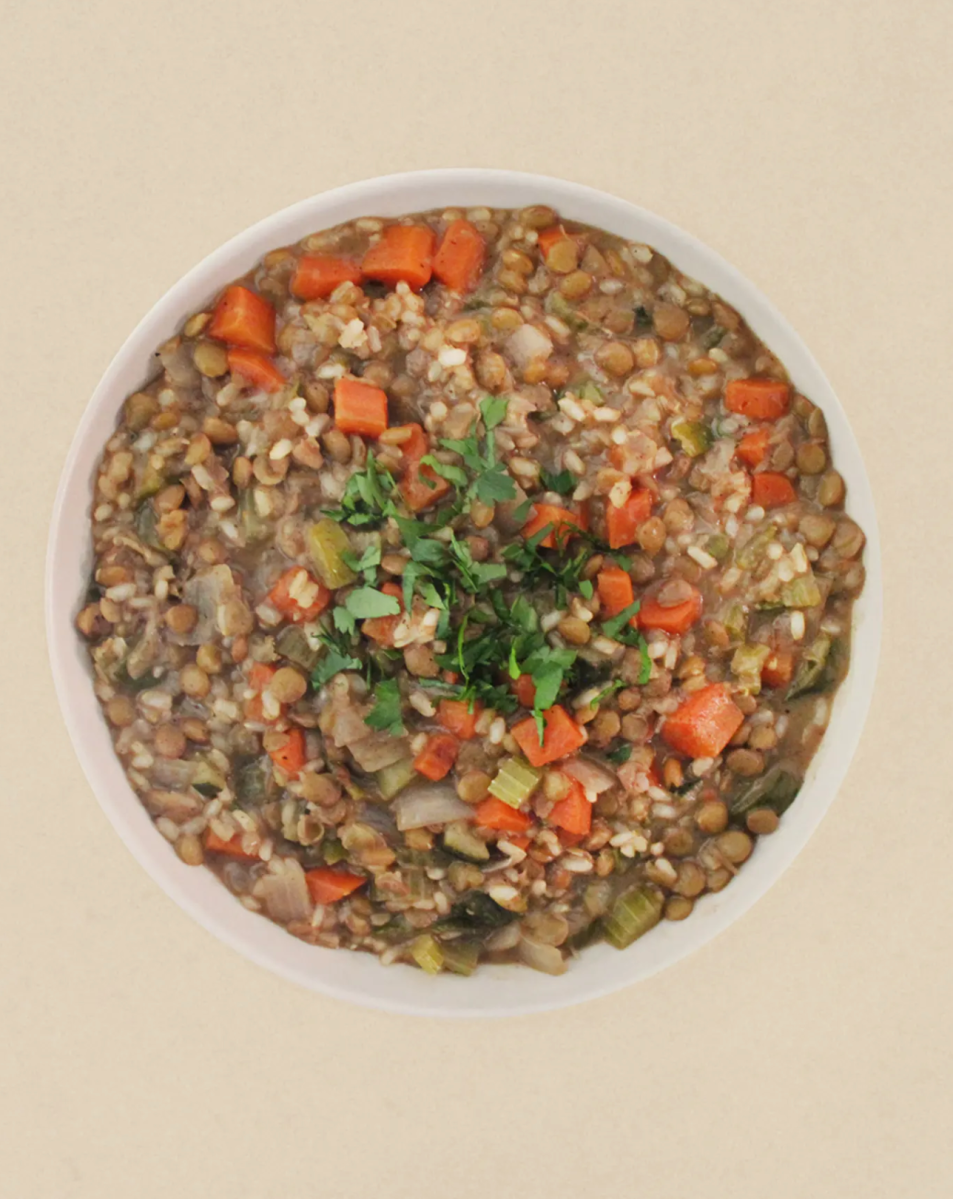 Method
In a large saucepan, combine diced onion and olive oil or coconut oil. Sauté for two minutes, until onions begin to soften.
Add in diced carrots and celery, and sauté for 3-4 minutes, until all of the vegetables have begun to soften.
Pour in vegetable broth and coconut milk, and heat for 2-3 minutes.
Add in green lentils, long grain brown rice, curry powder, salt, and pepper. Mix well.
Over low-medium heat with a lid on the pot, allow the mixture to simmer for 25-30 minutes, until the veggies, lentils, and rice are soft and tender. Stir occasionally.
Allow to cool and enjoy!